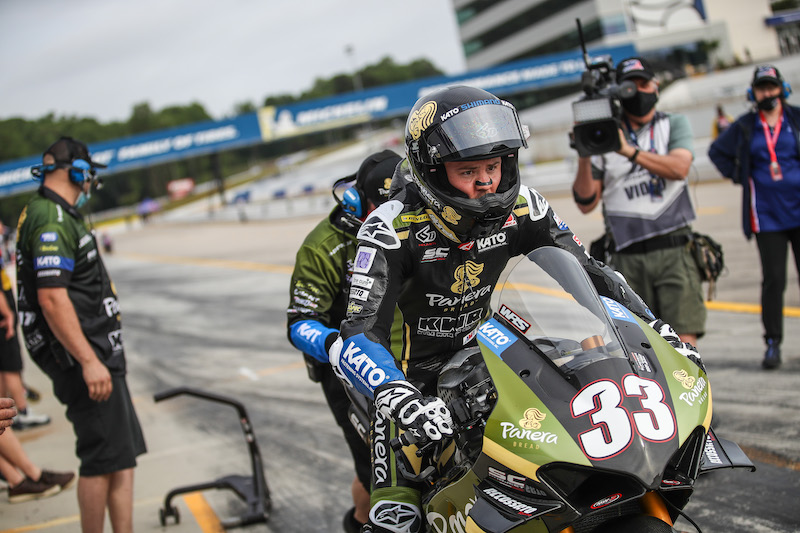 The following is from Kyle Wyman Racing…
Kyle Wyman will ride his Panera Bread Ducati Panigale V4 R Superbike this weekend for round 7 of the 2021 MotoAmerica Superbike Championship, after withdrawing from the previous round at Brainerd International Raceway with lingering effects from his fractured elbow. 
Wyman, who is now 8 weeks post-surgery, has been recovering while riding at races like Laguna Seca, just three weeks after surgery and winning the King of the Baggers race and championship. While this previous round at Brainerd was a further three weeks later with more recovery time, the injury was not healed and strong enough to ride the beastly Ducati Superbike. 

Wyman's hope is that another two weeks of recovery will put the New York native in a better position physically to compete at what is essentially his home race. 
"Obviously pulling out mid-weekend at Brainerd was a surprise and a major setback on our season," Wyman said. "But the past week I've seen some big progress in the strength and pain management of my elbow that did not exist a short time ago. At this point the bone is very much healed around the titanium plate and seven screws, but there are so many ligaments and tendons in the elbow joint that, along with the muscles, take a lot longer to heal and find strength again."
While not back to full-fitness, Wyman's current state should allow him to control the bike safely and put in a complete weekend, further developing the Panigale V4 R Superbike. The KWR team tested at Pittsburgh in May of this year, after the Virginia International Raceway round and has high hopes for good results.
"I will need to take it lap by lap, day by day," Wyman added. "But we've made some ergonomic changes to the bike and with the improvements I've made there is a good chance we can be in a position to fight in the top 5. It's been three rounds I've missed now, which sucks. After our test here at Pittsburgh in the spring we found a really good setup for this place so I'm really hoping to be physically in a position to make the most of it." 

Find out how the weekend will play out by subscribing to MotoAmerica Live+. FP1 practice starts Friday, August 13th at 10:25am EST. Live coverage begins at 2:00pm EST. Both Superbike races will be LIVE on Fox Sports 1 (FS1) on Saturday and Sunday, both at 2:00pm EST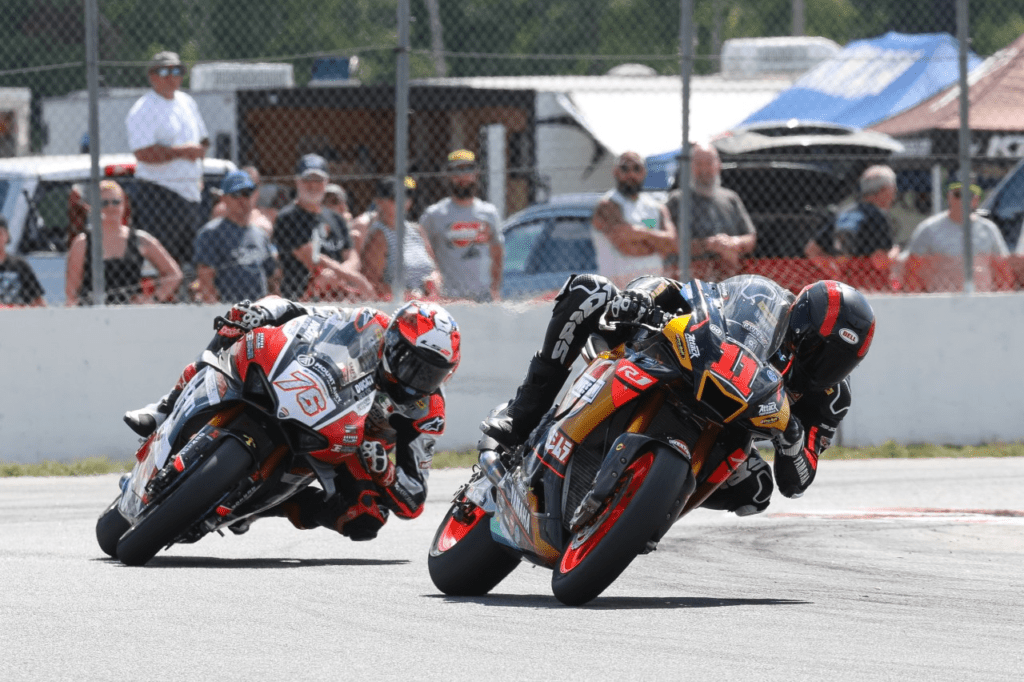 The following is from Westby Racing…
Round seven of the 2021 MotoAmerica AMA/FIM North American Road Racing Championship starts this Friday at Pittsburgh International Race Complex in Wampum, Pennsylvania. Yamaha YZF-R1 Superbike rider Mathew Scholtz and YZF-R3 Junior Cup rider Jack Roach are happy to be back East and are looking forward to racing at one of their favorite tracks on the MotoAmerica schedule.

For Mathew and the team, eight podium finishes in 12 races is an impressive accomplishment, as well as a powerful statement of consistency. But, they're not satisfied. In fact, they are more determined than ever to end championship leader Jake Gagne's winning streak. And so, the theme for this weekend is "there's no better place than Pitt Race" as Mathew and the team steel their determination.

"This is a race weekend that I am really looking forward to," said Mathew. "Pitt Race is one of my favorite circuits on the calendar, and I always enjoy racing there. I've had some very positive results in the past there, and with the momentum we are experiencing with the bike, the team, and my riding, I think we can have a really good weekend. I've got a couple of things that I've been working on with my riding, and I know we have some ideas for setting up the bike. I can't wait to get out on the track and continue working hard to bridge the gap to Jake Gagne because I know we are more than capable of running up at the front. Also, I look forward to seeing all the fans this weekend."

Crew chief Ed Sullivan commented, "After a solid couple of rounds, we have a really good direction with the bike and the rider, but now it's time to take the next step forward. We've been working hard with the data from Brainerd, and we look forward to trying some setup options on Friday. Pitt Race has been good to us in the past, and the team is excited to see what Mathew can do this year.

Team manager Chuck Giacchetto added, "Coming to Pitt Race always makes me feel good. Our first ever time at this facility was a test a few years back, and we left being the fastest overall. Our team has always adapted well to this circuit, and I know our crew has been working very diligently since our double podium at Brainerd. The fellas and Mathew, I'm sure, are excited and ready for FP1."

Superbike final qualifying is on Saturday morning at 10:20 a.m. ET. Superbike race one will go green on Saturday afternoon at 2 p.m. ET, and Superbike race two is on Sunday afternoon also at 2 p.m. ET. Both races will be broadcast LIVE on FOX Sports 1 (FS1), as well as streamed on MotoAmerica Live+.
Jack's 2021 Junior Cup season has been a trying one for the young Brit, but just like his mentor Mathew, he is equally determined to perform his best this weekend at Pitt Race. He'll approach the weekend one step at a time, striving for fast lap times in practice and qualifying, and then applying his racecraft in both races to finish strong.
"Pitt Race is one of my favorite tracks," Jack said. "And I think the weather conditions may come into effect. You could call me a wet-weather specialist from my background in the British Superbike Series, so I think this round will be very interesting.
"Also, I want to give a shout out to Chuck (Giacchetto) for giving me his support throughout this season. Without him, none of this would be possible."
Junior Cup race one starts on Saturday at 3 p.m. ET, and Junior Cup race two is on Sunday, also at 3 p.m. ET. Both races will be broadcast via tape-delay on FS2 this Tuesday, August 17, beginning at 5 p.m. ET.