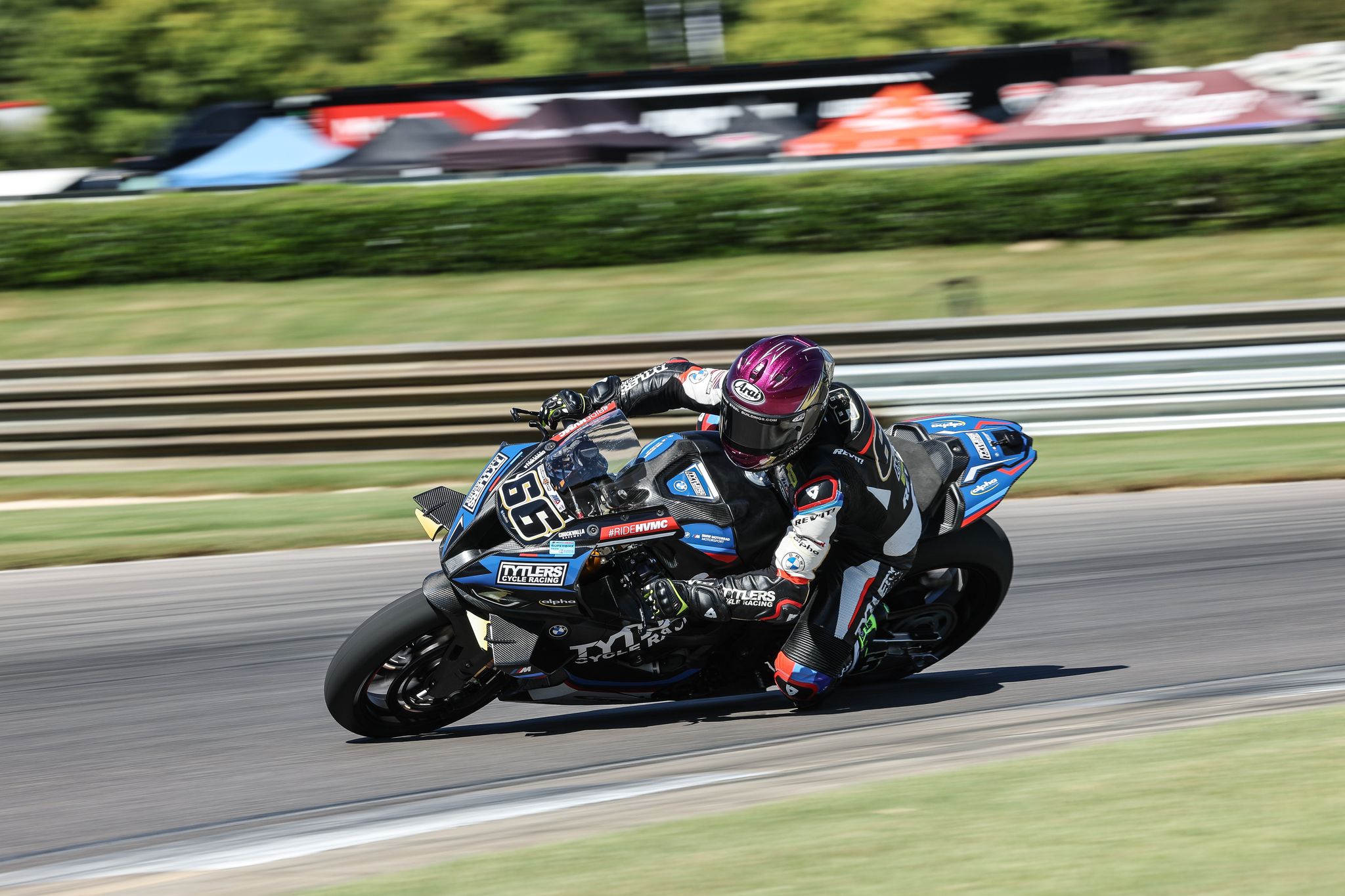 The following is from Tytlers Cycle Racing…
Tytlers Cycle Racing signed off their maiden MotoAmerica Superbike season in style with another podium yesterday, PJ Jacobsen producing another spectacular race to finish third in the final race of the year at Barber Motorsports Park.

Classified third in Saturday's opening encounter, PJ was relegated to fourth after series organisers overturned Danilo Petrucci's jump start penalty. Understandably disappointed, PJ ensured there were smiles aplenty on Sunday as he powered his BMW M1000 RR to his third top three finish of 2022 – the team's fifth.

Hector Barbera rounded out his first season with the team with two solid results. He finished fifth and tenth respectively whilst Kyle Wyman, the team's third rider for the weekend in the Superbike category raced to P13 and P9.

The results mean Hector ends the year fifth overall with PJ in sixth.

The team would like to thank its sponsors, and everyone involved with the MotoAmerica Championship and look forward to lining up on the grid in 2023.
PJ Jacobsen: "Race 1 didn't start too well. I made a mistake and lost a lot of time. I was classified third but then demoted after MotoAmerica overturned Petrucci's jump start penalty, so we celebrated for no reason but overall, I was happy to close to the podium and fourth in the end isn't so bad. It was a much better race on Sunday. I was fighting for the podium and the pace was a lot stronger. I am happy to get another podium on the final corner of the final lap. I am proud of everyone involved in the team and for the opportunity to ride for Tytlers Cycle Racing with the new BMW M1000 RR this year."
Hector Barbera: "I had a much better feeling in the first race on Saturday. Every lap felt better, and, in the end, I finished fifth. It was impossible to ride on Sunday with the same setting, so I am sure it was a problem with the tyre. I was over two seconds a lap slower and so to end the year like this is disappointing. Big thanks to the team, it's been a pleasure for me all year to be with you all."
Kyle Wyman: "It was a great week and so good to be back on a Tytlers Cycle Racing BMW this past weekend. I assembled a crew of mine alongside the teams, and we continually improved throughout the weekend. Saturday's race saw a drop that we didn't expect, and I dropped all the way back to thirteenth after running sixth. We made a big step on Sunday and finished ninth and had a pretty good race. I had a lot of fun and a great experience and I'm proud of what the team has accomplished in their first season and am proud to have been a part of it."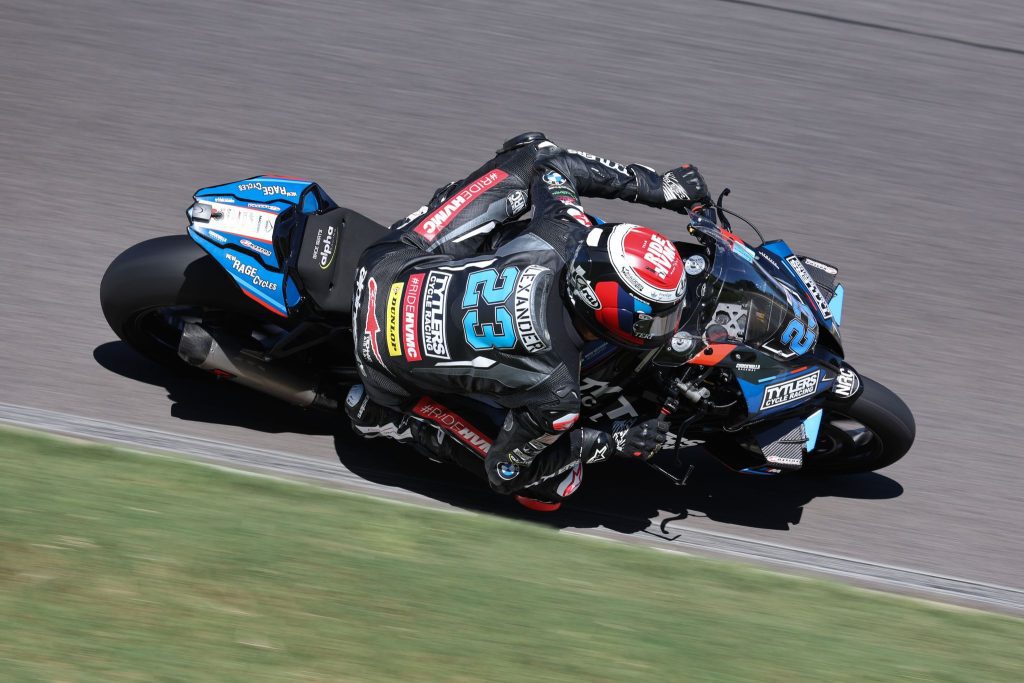 The following is from Tytlers Cycle Racing…
The Tytlers Cycle Racing powered by #RideHVMC Stock 1000 squad leave the final round of the 2022 MotoAmerica Championship disappointed with a double DNF and a sixteenth-place finish but elated on the other hand to have secured a 1-3 finish in the final standings thanks to the efforts of their riders Corey Alexander and Travis Wyman.

With the title wrapped up in New Jersey a fortnight ago, the three-rider squad – which also includes season rookie Zac Schumacher- headed to Alabama confident of another front running performance and after strong qualifying results were optimistic ahead of Saturday's sole race.

From lights out both Alexander and Wyman were in the mix but an unfortunate on track incident put them both out of podium contention. Zac Schumacher narrowly missed his fifth point scoring finish of the year in P16 but can be proud of what he accomplished in one of the most competitive Stock 1000 championships in the world.
Corey Alexander: "This weekend started off strong but after some set up miscues and getting tangled up with Travis, it left us both off the podium. Not the result we wanted but it doesn't overshadow all the hard work and amazing results our whole team has been able to make happen this year. I'm thankful to everyone that supports us and look forward to 2023."
Travis Wyman: "I made a decent start and was running second. I had a bit of a moment when the white flag came out and I went down and unfortunately Corey had nowhere to go and ran me over. Neither of us got to finish and I'm bummed that neither of us could make the podium. I am happy for Corey – he is a deserving champion, and I am happy that I was able to still finish third overall. A big thanks to the entire team for their efforts this year."
Zac Schumacher: "The race went quite well considering I had never ridden at Barber before. I really enjoyed riding the circuit and was able to throw down some reasonably quick times. I was involved in another race long battle and sadly was unable to make a safe pass so had to settle for sixteenth at the flag. I want to thank the team; it's been an incredible season and an experience I won't forget."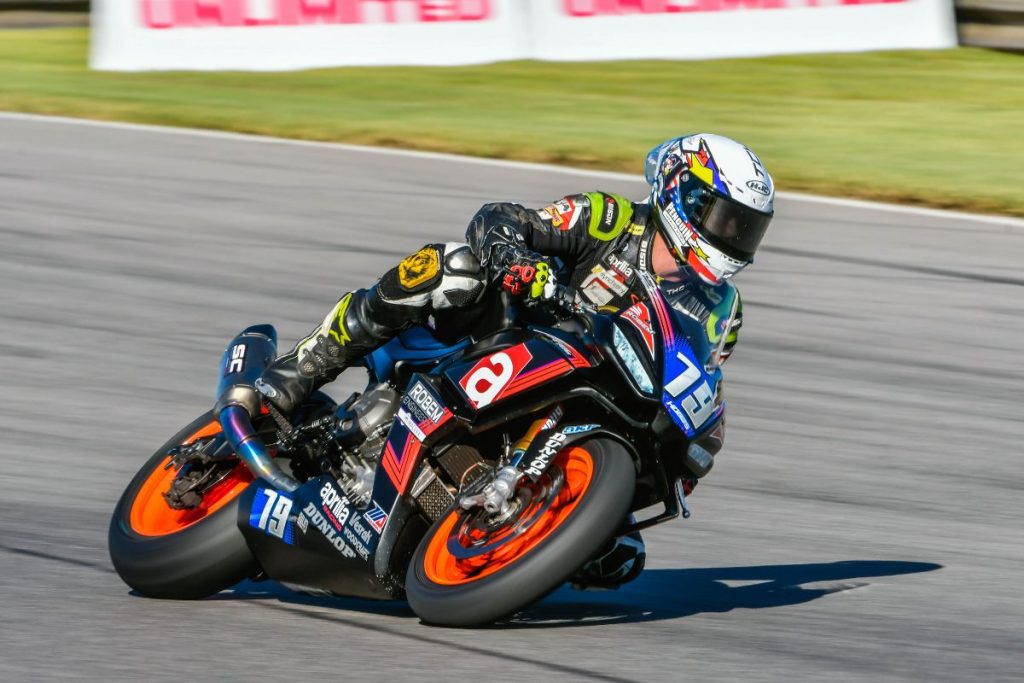 The following is from Robem Engineering…
The Robem Engineering team had both of its riders back on the box Sunday, as Teagg Hobbs and Ben Gloddy finished second and third to cap off the 2022 MotoAmerica Twins Cup season.

The pair of New Hampshirites were coming off a double-podium performance at the previous round at New Jersey Motorsport Park, and the strong outing at Barber helped Hobbs finish seventh and Gloddy eighth in the final 2022 Twins Cup points standings.

Both riders got good starts when the lone Twins Cup race of the Barber round got underway. They were running third and fourth when the race was stopped due to an on-track incident. When racing resumed, both riders got off the line OK, and Hobbs and Gloddy were in third- and fourth-place, respectively, at the end of Lap 1. Both Robem Engineering riders were in a three-way battle for the last two steps on the podium all race along, and Hobbs and Gloddy both got past the other rider on Lap 5 of the restarted nine-lap contest. Though there was some additional jockeying for position in the closing laps, Hobbs and Gloddy worked together to fend off the other riders vying for the podium to finish second and third, respectively.

The Robem Engineering duo made up two-thirds of the second all-Aprilia podium of the 2022 season. It was Hobbs' fourth and Gloddy's third podium finish of 2022.

Both riders started the weekend a little off the pace in Friday practice but were back in frontrunning form in Qualifying 1. Gloddy was the faster of the two in practice, finishing the session in fourth place. Hobbs finished practice ninth-fastest. When the first of two qualifying sessions took place Friday afternoon, Hobbs finished that session in second place and Gloddy was about three-tenths slower in third place. Qualifying wrapped up on Saturday with Gloddy having secured third on the starting grid and Hobbs fourth.

Robem Engineering thanks Teagg, Ben, Aprilia and its crew members and technical partners for their contributions to the team's on-track success in 2022. The team's racing plans for 2023 will be announced at a later date.

Teagg Hobbs / No. 79
"It was a great way to end the season. Ben Gloddy and I have had our struggles this year. For us to both be on the podium the last two races of the season and be consistently at the front in every session is a huge thing for the team – and us as riders. It just proves what the Robem Engineering team can do when it's facing hardships. I have to thank the team, all my sponsors and my family for supporting me this year. It was a great season."

Ben Gloddy / No. 72
"I had a great race. I think we ended the season really well, and I want to keep this momentum rolling into next year. I wouldn't have been able to do this without the Robem Engineering crew being behind me, and I'm looking forward to seeing what next season has for us."
Robem Engineering's technical partners for 2022 include Aprilia Racing, Piaggio Group Americas, The Center for Plastic Surgery, Synchrony, Velocity Calibrations, Bitubo Suspension, Dunlop, Woodcraft Technologies, Dymag, Vesrah, Sprint Filter, DID, Magura USA, Sara Chappell Photos, NGK/NTK, Blud Lubricants, Millennium Technologies, Motovation USA and SC-Project.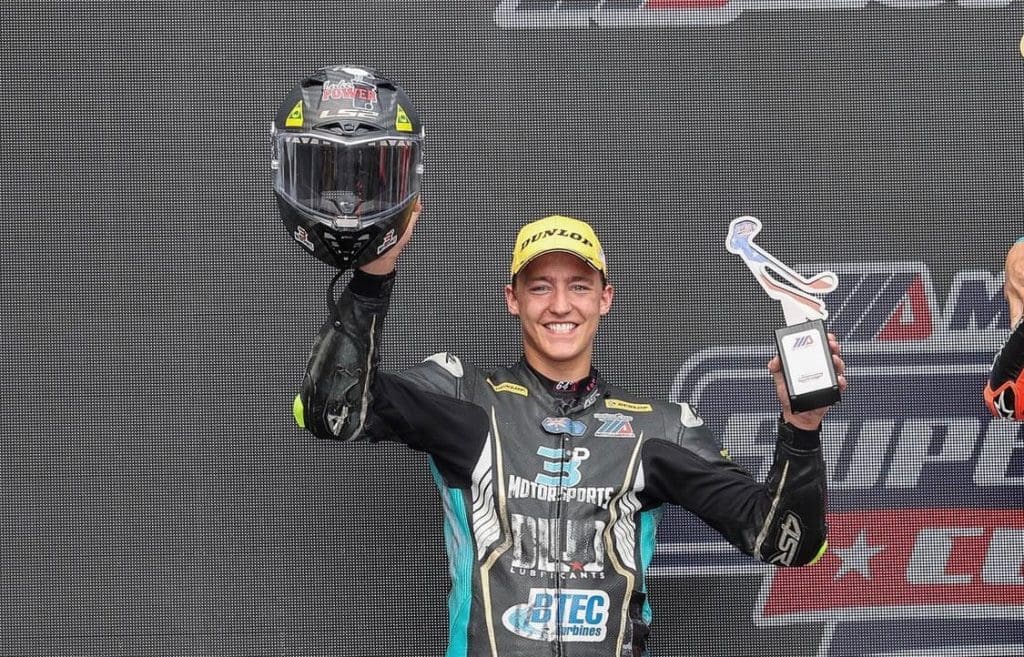 The following is from Luke Power Racing…
Luke Power ended his maiden MotoAmerica Supersport season with a superb second place finish in the final race at Barber Motorsports Park yesterday. The result means the seventeen-year-old from Australia is classified fifth overall, an impressive result considering he had no prior knowledge of the circuits, tyres, or the motorcycle he would campaign.
A technical issue on the opening day saw Luke miss valuable track time following an FP1 spill. He salvaged a fourth row of the grid start in second qualifying before another technical issue threatened to put him out of Saturday's opening race on the sighting lap. Able to start the race, albeit on the back row of the grid, Luke passed half of the field on the first lap before a second crash cut short his hopes of another front running race.
A steady warm-up, after a bike rebuild by the team meant the #68 Suzuki mounted rider was able to compete on Sunday. Starting on wet tyres, he rode a brilliant race, backing up his early season podium at Road America with another outstanding performance on a drying track to ensure P5 in the final points classification. He also had the accolade of once again being the top Suzuki mounted rider.
Luke will now head to Europe for two weeks of off-track promotion, including a visit to the final European round of the FIM Superbike World Championship in Portugal. Details of his 2023 plans will be announced in due course.
Luke Power: "What a weekend. I have no words. It has been such an up and down weekend, the toughest of my entire life. We had electronic issues, two crashes and so to finish on the podium yesterday and to be top five in my first year in the US is just unbelievable. I made a mistake in race one after we had a tech issue on the sighting lap, and I am sorry to Sam (Lochoff) as we both went down. Today in warm up I wasn't really feeling that confident but then we had a short session before the race, and I felt comfortable. I knew in the race I would have to manage the tyres and that was my plan. The target was to end the season with the best result I could, and the podium was just the icing on the cake. By the time I moved into second I could see that Josh (Herrin) was too far and I decided to just focus on hitting my marks and not making any mistakes. I want to thank 3D Motorsports for their support this year, all my sponsors, my manager, and my mam and dad for everything they continue to do for me and for letting me race motorcycles. Finally, I want to thank everyone at MotoAmerica for making my first year in the series such a memorable one. I am off to Europe now and really excited to be going to Portimão to check out the World Superbike paddock before heading home with a smile after ending the season in such a good way."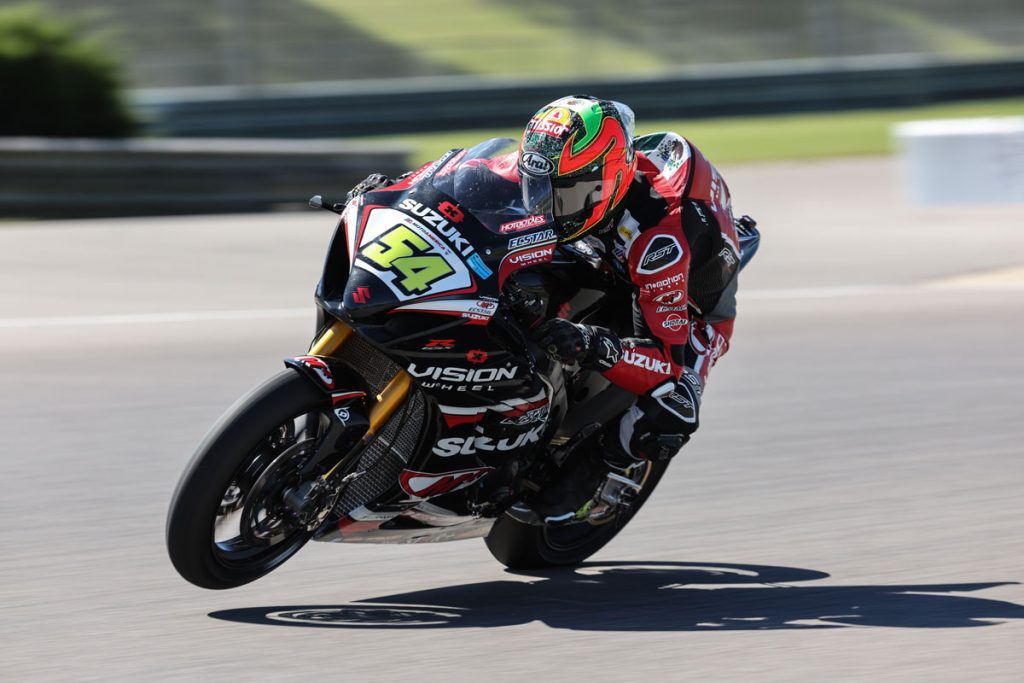 The following is from Suzuki…
Suzuki Motor USA and Team Hammer ended the 2022 MotoAmerica AMA/FIM North American Road Racing season at Barber Motorsports Park on Sunday in trophy-winning fashion.
Vision Wheel M4 ECSTAR Suzuki's Tyler Scott continues his rapid development with a podium performance while competing in among the most challenging conditions imaginable to close out his maiden Supersport campaign.
Faced with a wet-but-drying track, Scott charged into the race's opening corner in second aboard his GSX-R750 shod with wet-weather tires. Tentative initially, Scott dropped outside the top five before increasing his confidence at the 2.38-mile circuit.
As the track continued to dry out, the 16-year-old rookie upped his speed and fought his way back up to third and was closing on second position by the time he ultimately took the checkered flag.
The result was Scott's ninth podium of his breakout season, including a debut victory scored earlier in the year.
Scott, who finished the year ranked an impressive third in the Supersport points standings, said, "I didn't feel that great in the beginning of the race, but the track started to dry out and I started to get more and more pace. I thought I might be able to even get second by the end, but I just ran out of time.
"I want to give a big thanks to the whole Vision Wheel M4 ECSTAR Suzuki team for giving me the opportunity this year. I took full advantage of everything they had, and it's a great feeling to put it on the podium for the last race of the year. I think I learned a lot about bike set-up this year working with the team. Everyone has been a big help and I'm really happy with the progress I made."
Suzuki GSX-R750s ultimately secured four of the race's top five positions, headed by 3D Motorsports LLC's Luke Power. The rider who completed the top five was Scott's Vision Wheel M4 ECSTAR Suzuki teammate, Sam Lochoff.
Lochoff, who continues to fight his way back to form and fitness following a lengthy injury-forced layoff, battled for the podium for much of the race before eventually earning an encouraging fifth.
"It was a fun race, but it was crazy. I have often raced in the wet, but never on a dry track with rain tires. Call that one a learning experience, but I was glad to get fifth." Said Lochoff. "I had dropped back to about seventh at one stage but I came back through the field. I thought I was going to make a pass for third, but I had no front tire left. The left side of the front tire was totally gone and the handlebars were moving back and forth even when I was on the straight."
Despite missing several races, the South African ended the season ranked ninth with three podiums and five top-five finishes.
Third Vision Wheel M4 ECSTAR Suzuki Supersport entry Liam Grant had a more difficult time with the conditions. Grant took the risk of beginning the race on dry tires, ultimately fading from his grid position inside the top ten down to 16th. The youngster ended his rookie Supersport season ranked 13th on the strength of eight top-ten finishes, highlighted by the best result of sixth.
Vision Wheel M4 ECSTAR Suzuki's Superbike duo of Richie Escalante and Jake Lewis ended the year in formation, taking the final checkered flag of the season in sixth and seventh position, respectively.
Premier-class rookie Escalante made a late pass on his veteran teammate to end the year with a promising sixth. The result was Escalante's 12th top ten in a year that saw him finish ninth in points while scoring five top fives, including a pair of fourths.
"The beginning of the race was a little difficult," said Escalante. "With the rain in the morning, the temperature was cooler today and we chose a different tire. Sometimes you have to take a risk and it did not work out at the beginning. As the race went on, I got stronger, and I was able to go faster and be the top Suzuki finisher. I am happy with the year, learning step by step with a great team. Now is the time to take what I learned and train hard to get ready for next season."
Lewis held sixth for much of the race over Escalante. His seventh was his 15th top ten. The Kentuckian ended the year ranked seventh, boasting three top fives on the season, including a podium.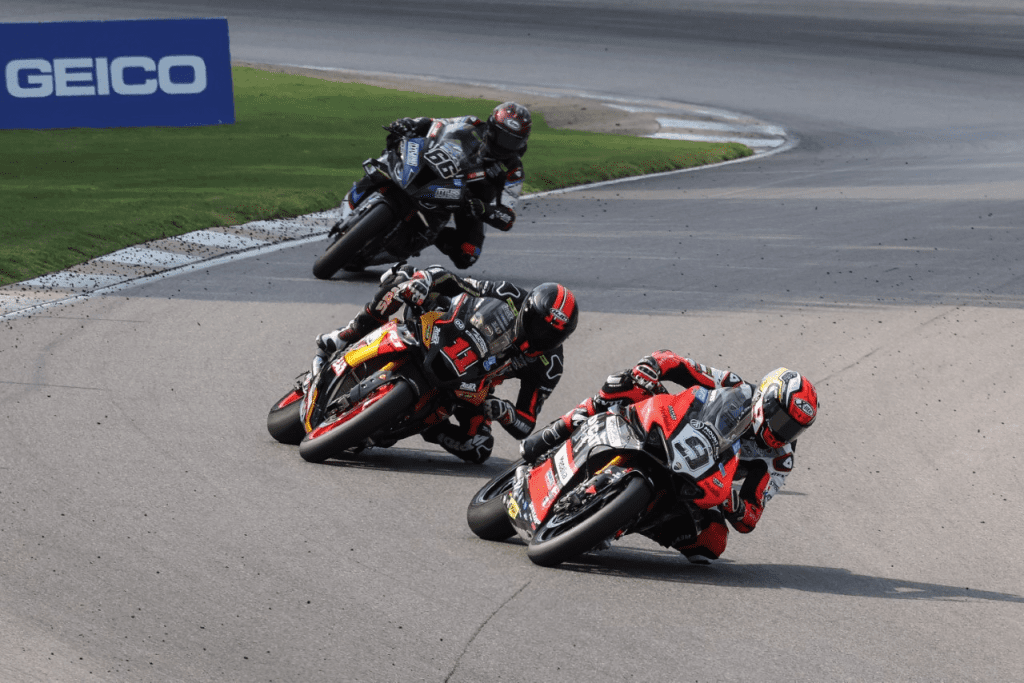 The following is from Westby Racing…
Mathew Scholtz and the Westby Racing team had high hopes on Sunday morning at Barber Motorsports Park that they would finish the 2022 MotoAmerica season with another podium finish, which would have given them a dozen race results inside the top three for the year. Unfortunately, a technical issue with the #11 Westby Racing Yamaha YZF-R1 thwarted the plan, and Mathew did well to finish the race with a fifth-place result.
Starting from the third position on the front row of the grid, Mathew was overtaken by Danilo Petrucci on the opening lap. Hounding Petrucci for the next several laps, Mathew managed to get back around Petrucci and retake third on lap five. Petrucci quickly passed Mathew again on the next lap, though, and The Scholtz Kid realized he had a problem with his bike. On lap 11, PJ Jacobsen overtook Mathew, relegating him to fifth, and that was the position he remained in until the checkered flag.
"I had a small issue with the bike during the race, and it affected my ability to move towards the front," Mathew said. "I did what I could, but I was only able to finish fifth. It's not the result that the Westby team and I had hoped for, but given the circumstances, I should be satisfied with fifth. I need to look on the bright side and realize that the result could have been much worse. I had hoped to be able to finish the season in the top three in points, but it just wasn't meant to be."
After a much-deserved rest, Mathew and the Westby Racing team will begin working towards the start of the 2023 MotoAmerica Championship. They plan to begin their off-season testing program in the coming months, so look for more information to come.
The following is from Ducati…
Star rookie Danilo Petrucci (Warhorse HSBK Racing Ducati NYC) has finished an exceptional second place in the 2022 MotoAmerica Superbike Championship after carding a third and a fourth-place finish at the season finale at Barber Motorsports Park.
The Italian took the title struggle with Yamaha's Jake Gagne right to the season's final race, with his eventual second place in the standings the best result for Ducati in the MotoAmerica era of AMA Superbike competition.
Danilo Petrucci (Warhorse HSBK Racing Ducati NYC – Ducati #9) : "I am happy," Petrucci said with a smile. "Happy to finish second in this championship because I fought with a really talented rider like Jake who has a good team and bike. We had many races, with third on Saturday, second on Sunday, so we need to get a bit better with setting the bike up early in the weekend. We gave it our best shot and we can be happy with our year."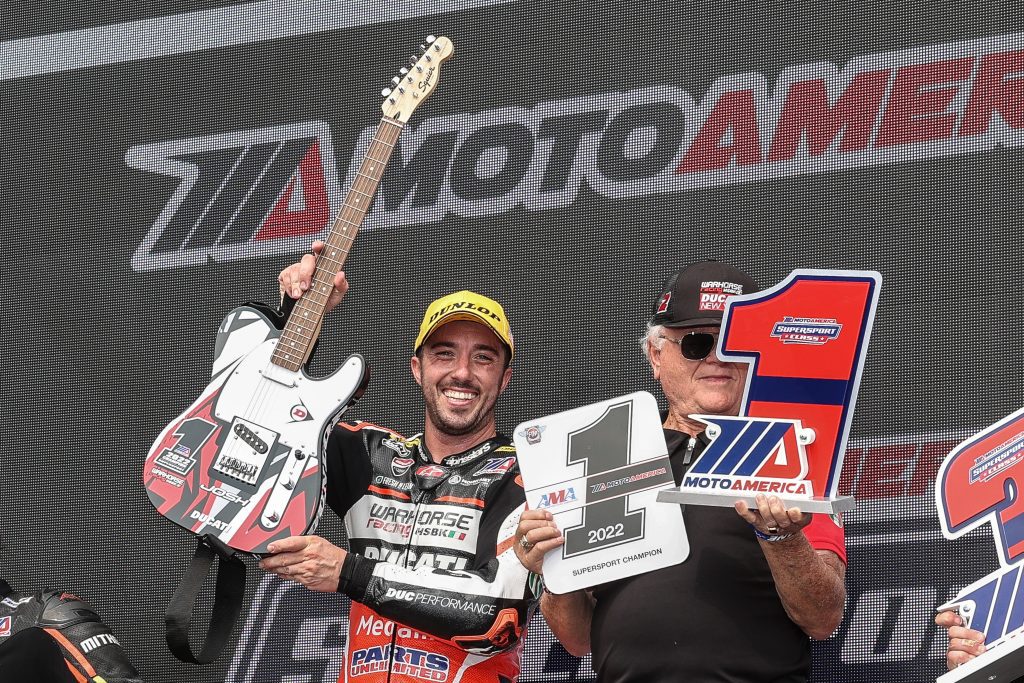 The following is from Ducati…
Josh Herrin (Warhorse HSBK Racing Ducati NYC) put the hurt on the MotoAmerica Supersport pack today at Barber Motorsports Park, the 2022 champion taking a dominant 17-second victory over Yamaha's Rocco Landers.
Herrin had earlier finished race one in second, under one second off race winner Landers, but returned full of fire for race two, his win capping an incredible year in which his championship-winning margin was a massive 106 points.
The season marks Herrin's first MotoAmerica Supersport Championship to go with his previous Superbike and Stock 1000 titles. The Californian will be back in red next year as a member of the Warhorse HSBK Racing Ducati squad.
Josh Herrin (Warhorse HSBK Racing Ducati NYC #2): "The weekend went great," said class champion Herrin. "Today, we were ready to go in the dry but also ready for it to be wet. We were able to get a big lead and maintain it to the end. I'm super happy with how the year went. Happy to get a championship for Ducati, and the Warhorse HSBK team is a great one to be a part of and I'm happy to be coming back with them next year."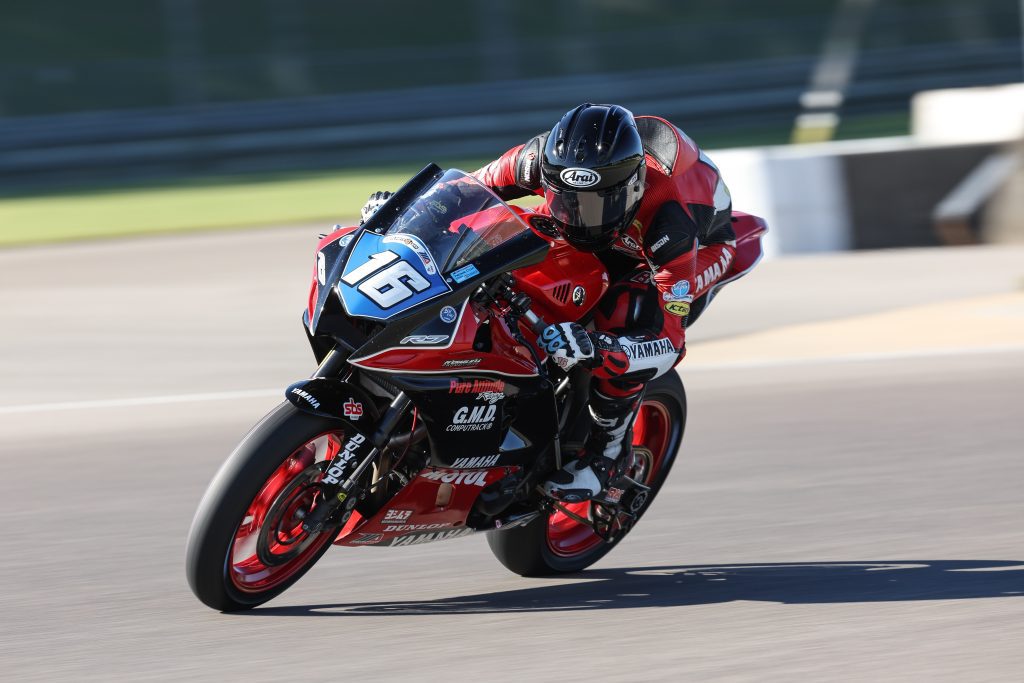 The following is from Pure Attitude Racing…
Pure Attitude Racing head into the winter break, proud of their achievements in the second half of the 2022 MotoAmerica season. After a difficult start, the entire team continued to work together, returning to the top ten of the Twins Cup thanks to the combined efforts of Liam MacDonald and Trevor Standish, who maintained their focus throughout the year. The team also had several front running performances with their Junior Cup rider Chase Black, including a front row start.
The final round of the season took place at Barber Motorsports Park took place this past weekend with Chase racing to a best finish of seventh, while Liam bagged another strong finish in eleventh. Trevor narrowly missed a point scoring result in P17.
2022 may only just have ended but the focus for Pure Attitude Racing is now firmly on 2023. They will be announcing their plans in the coming weeks so stay tuned. Also watch out for ALL ATTITUDE, a documentary which takes you behind the scenes of life within the MotoAmerica paddock in a way never seen before. It is currently in post-production and will air soon.
Chase Black: "Race 1 on Saturday was pretty good. Thanks to team and the changes they made I was able to beat the riders around me and was happy with the way I rode. I finished P11 on Sunday which was not where I wanted to finish but sometimes racing is like that. I want to thank Pure Attitude Racing for their support this year and all of my sponsors."
Trevor Standish: "I made a good start but lost a few places on the opening lap but then the red flag came out. A few people went down in the second start, and I was able to run a decent race. I am thankful to bring it home and end the season with a double finish for the team. I am not sure what the future holds but wherever I ride I will give it 100% as always. I want to thank the entire team for everything they have done, and to all our sponsors for sticking by us, especially with my injury. It's time to reset for 2023."
Liam MacDonald: "I am happy to end the year with more points and another fight for the top ten. It's annoying to be beaten at the line by 0.078s but I have to be pleased with how me and the team performed, especially in the last few races. We never gave up and continued to believe in the project and I am proud of what we achieved. I want to thank the entire team, Dean, Cyndy, Kent, Todd, Michael and want to say thanks to my team mate Trevor. It's been a blast sharing the tent with you again this season."
Dean Standish – Team Owner: "What a ride. What a season. It's been a rollercoaster that's for sure and we have had difficulties, but I couldn't be prouder of everyone that has been involved in this program this year. Our riders, Liam, Trevor, and Chase were professional throughout and we achieved some really good results along the way. We couldn't have don't it without any of our sponsors so a big thanks to them. Thanks to Michael for the fantastic job he does in promoting our team and to my wife for being my rock both on and off the track. We learned a lot and we will come back swinging in 2023. Thanks to MotoAmerica too for giving us such a great championship."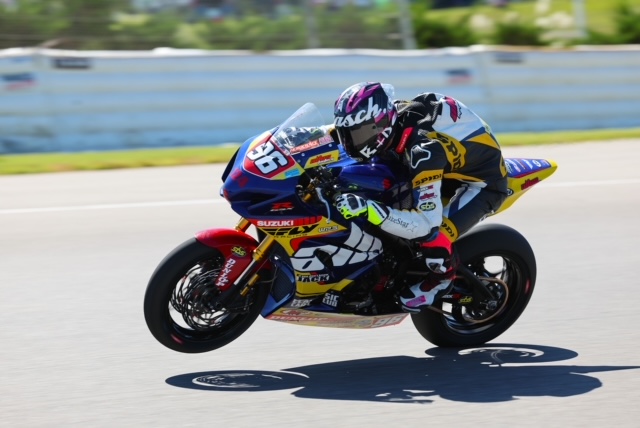 The following is from Altus Motorsports…
Altus Motorsports may not have finished the 2022 MotoAmerica season with any championships, but that did not keep this season from being one the best ones in the history of the team. The team had a great time, all three riders improved throughout the year and showed impressive results.
Superbike Cup & Stock 1000
Brandon Paasch rolled into Alabama on a four-race podium streak in the Stock 1000 class and was beginning to really feel comfortable on the big bike. In the solo Stock 1000 race of the weekend, he started from eighth place and crossed the finish line in fourth. Overall, Paasch finished the year strong with a second-place finish, three third places, and one fourth place in the last five races. This was enough to earn him fourth in the 2022 MotoAmerica Stock 1000 Championship.
In the Superbike races, Brandon started both from 19th on the grid. In the Saturday race, he finished 14th and as the top Superbike Cup racer. On Sunday, he crossed the line in 15 th and as the second Superbike Cup competitor. As a result, Paasch took second in the 2022 Superbike Cup Championship.
Paasch commented, "Well, Barber is done and dusted… my weekend definitely wasn't how I planned to finish my year with pretty average results. We ended the season as the first rookie in both classes, 4th in Stock 1000 and 2nd in the Superbike Cup Championship. The progress from where we started to where we finished is a big relief for me. There were times this year when I was questioning whether I still had it or not. That first podium at Brainerd and the four-race podium streak really boosted my confidence and expectations again. I owe a huge thank you to the whole Altus Motorsports WPS FLY Racing team for supporting me all the way! Also, Ohlins & Mike for helping us a bit more at the end of the year, Suzuki and M4 for providing us with a strong package to start. A massive thank you to Arai, Spidi, CCC Manhattan, Luxestar VIP, If you don't know Jack and EvolveGT for the continued support. I was super-glad to have my Mom, Andy, and Darien there at the weekend to show some love and support! Thanks to everyone for the support this year, it was great to see a ton of familiar faces at the track again!"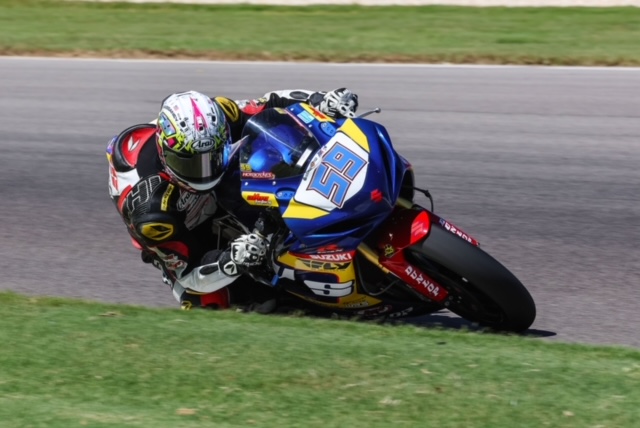 Supersport
Jaret Nassaney had a strong weekend in Alabama. Barber is a track he enjoys, and it showed in his results. He qualified eighth for both Supersport races. He fought his way forward in the first race to take a sixth-place finish. On Sunday, the wet track left teams to choose between a rain tire and a slick tire. The Altus team made the right choice and ran the wet option. At the start, Jaret jumped immediately into second place. After a few battles, he ultimately crossed the line in fourth – his best result of the year. Nassaney finished the 2022 season holding 7th in the MotoAmerica Supersport class.
"2022 is a wrap!" Jaret Nassaney said. "I'd say our goals were accomplished. I wanted to be in the fight for top-five finishes and we ended the year fighting for the box! The new bike really suited me this year. At the beginning of the year, we had some growing pains to figure out, but I think it's all squared away now. We ended the season on a high note, and I'm very happy with how the weekend went. Barber is one of my favorite tracks and with the new surface is amazing but at the same time, we struggled with tire life. Qualifying was tough. I was only able to get eighth so that put us in the middle of row three. With the tire longevity issues, we decided to go with the harder option in race one, and I'm very happy we made that decision. I had a good battle for 6th the whole race and was able to come out on top. Race 2 was a completely different story. In good ol' Alabama style, it decided to start raining 20 minutes before the start. But not enough to make any puddles. They allowed a 10-minute warm-up before the race, which I opted out of. We took the gamble and went with a wet-weather setup. I got an awesome start and put myself in second for the first couple of laps but ended up getting passed by a few people. The rain tires were the right choice and allowed us to pull a gap on riders running the slicks at the onset. By the end of the race, the track was completely dry and grip became a challenge. I was hoping to have enough tire toward the end to make a pass back for third but wasn't able to make it happen. In the end, I was able to keep it on two wheels and take fourth! Our best finish of the year!"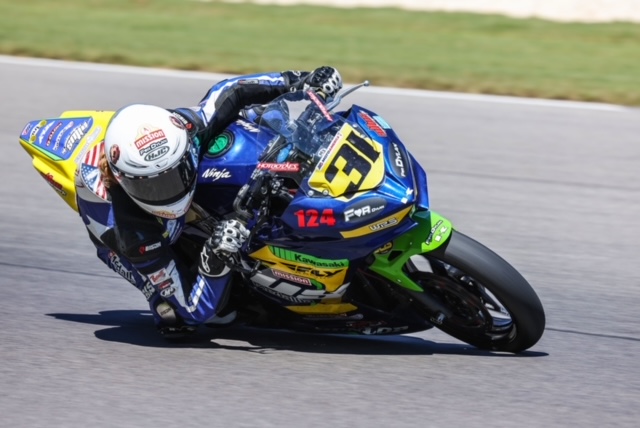 Junior Cup
Once again, Kayla Yaakov was the second-fastest Junior Cup rider in the qualifying sessions putting her in the middle of the first row for both race starts. Over the course of the season, Yaakov has proven that, regardless of her start position, she will be fighting for the win. And the final round at Barber was no exception. In both races, she went with the lead group and consistently put herself at the front of the pack. In the first race, on Saturday, she led out of the last turn and crossed the finish line just a hair ahead of the rider in second for the win. The Sunday race was another hard-fought battle, and the roles were reversed. Kayla came onto the front straight in second but could not quite get the pass made before the stripe and had to settle for second place. On the season, she managed 11 podiums with four of them wins, and finished just eight points out of first place in the Junior Cup Championship in third.
"What an amazing way to end my first full season of MotoAmerica," said Yaakov. "An almost perfect weekend for me, and possibly the best weekend of my entire season with a first in Race 1, and a second in Race 2. After all of the bad luck and struggles this year, I am beyond happy to have ended up placing third in the championship. I cannot thank the Altus Motorsports team enough for getting me to where I am, as well as my father for all of his hard work. Also, my incredible sponsors for helping me all throughout this year. This year was dedicated to my brother Dylan, and I hope I made him proud."
Team owner George Nassaney commented, "It's extremely tough to compete consistently at this level. It takes a lot to stay on top of the rules and the best options for performance, manage the ever-changing budgets and expenses, hang on to the talent (on and off the bikes), and have a team that works together in a cohesive way. We have had great success in the past. We've had amazing talent and wonderful people under our banner. We've collected championships in various classes. But this year, we really had an amazing team under our tent. We are looking forward to an off-season and preparing for next year. Thank you to our sponsors for making it possible and to MotoAmerica for continuing to promote road racing in the United States."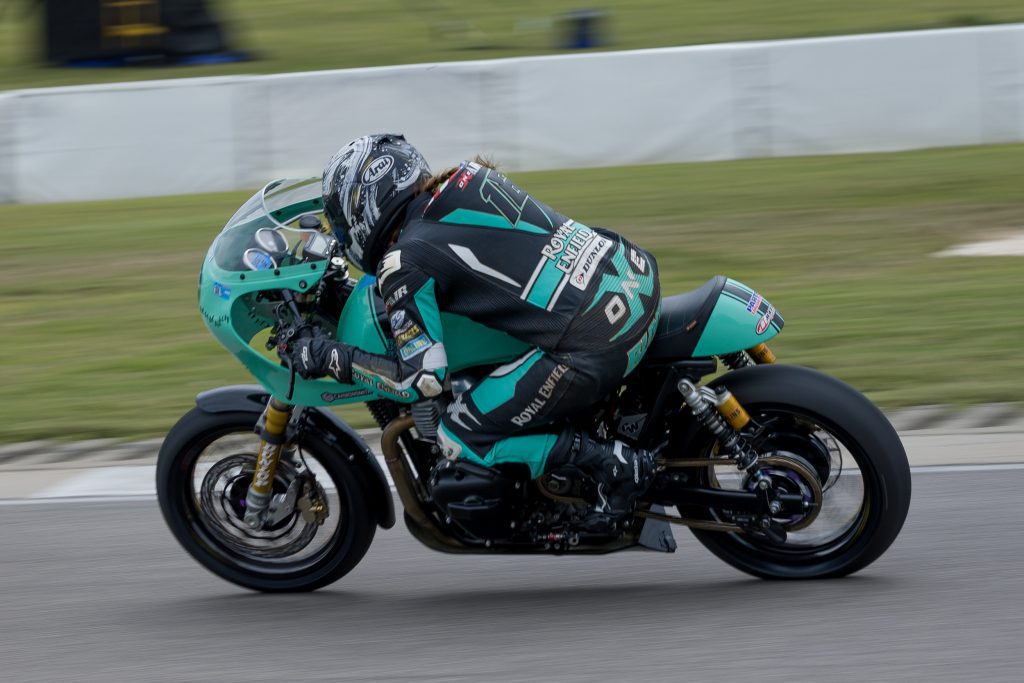 The following is from Royal Enfield…
Royal Enfield's Build. Train. Race. program was burning at both ends over the weekend with action in both Flat Track and Road Racing. The BTR Flat Track women took on the all-new American Flat Track venue for the Cedar Lake Short Track, the penultimate round of the season, while BTR Road Racing wrapped up the six-round championship at the Barber MotoAmerica round. In both cases, the race winners each earned their respective titles—Jaycee Jones in BTR Flat Track and Kayleigh Buyck in BTR Road Racing.
For the BTR ladies on the Road Racing side, the season came full circle at Barber Motorsports Park in Birmingham, Alabama. It was here that they met their teammates for the first time, and got their first track time on their completed builds during a two-day test prior to the start of the MotoAmerica season.
With three from a possible five wins already to her credit, all Kayleigh Buyck needed was a podium finish to clinch the championship. But she went above and beyond in the final round, putting a stamp on her title with a victory in what was the most thrilling battle of the season.
When the light turned green, Jenny Chancellor and Buyck rocketed off the line and headed the field. Buyck, Chancellor and Chloe Peterson duked it out in a three-way battle before Buyck and Peterson broke away for their own duel. Peterson, fresh off her first pole position of the season, was eager to turn her fast lap advantage into a race win. But in the end, Buyck would not be denied. In a battle to the end, Buyck claimed the victory and the championship.
"I knew it was going to be close after Jersey," said Buyck, referring to the previous round where she finished off the podium in fourth. "I just put my head down and came into this weekend. I wanted to have fun. It's been a stressful season. Everyone has been kicking butt the whole time. I wanted to win the whole race, but I knew if I at least finished decent, I'd hopefully be able to lock it in. Locking in the championship by winning the last race is definitely the way to end the perfect season."
Peterson collected second place while Chancellor got caught up in the battle for third with previous round winner Crystal Martinez. Martinez eventually broke free from Chancellor to secure third, and made a push to close the gap to the lead duo, but ran out of time and had to settle for third. Despite giving up a handful of points to Peterson at the final round, Martinez still secured second overall in the championship, two points over Peterson.
Jenny Chancellor held on for fourth while Ash Truxal rounded out the top-five in Barber, mirroring their overall championship placement, as well.
"It's fitting that our season wrapped up here at Barber, where it all began earlier this season," said Breeann Poland. "It's all gone by in a flash and we all can't believe it's already done! This season was absolutely life-changing for so many. We've had some ups and downs this year, and to watch these women flourish with their fortitude, their confidence and their talent was really rewarding. The speed this group of women has reached in these six races is astonishing. I couldn't be prouder of each and every one of them.
"We want to thank our 2022 Build. Train. Race. sponsors. Without them this isn't possible. A heartfelt thank you to all the companies and individuals behind BTR: Parts Unlimited, Harris Performance, S&S Cycle, Dunlop, Maxima Racing Oils, BOXO USA, Öhlins USA Suspension and Arai Helmets."