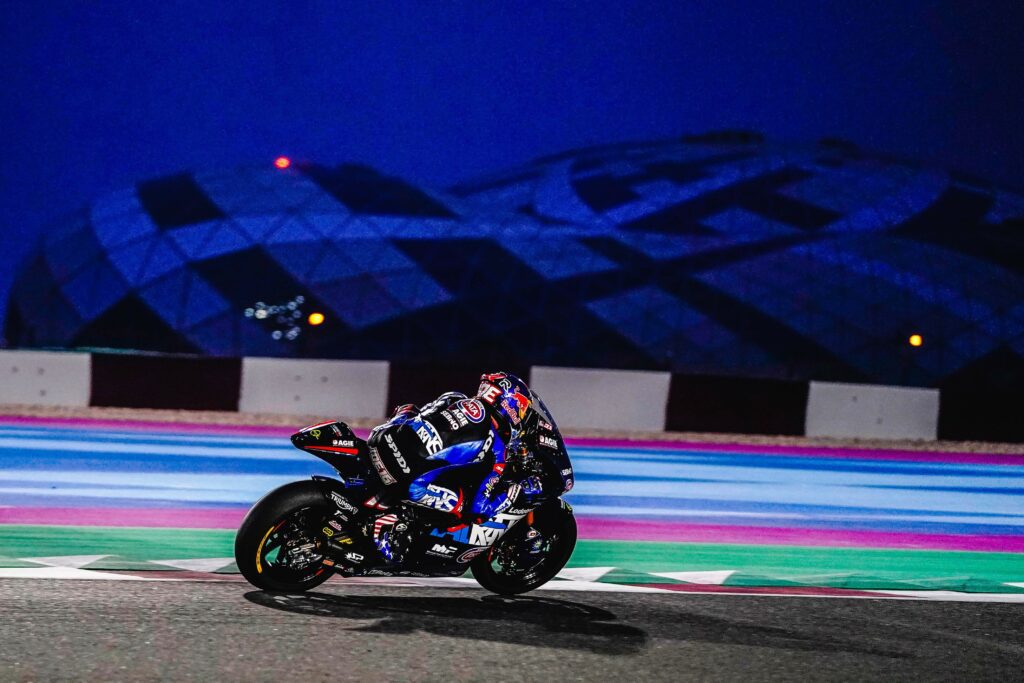 Italtrans Racing's Joe Roberts and American Racing's Cameron Beaubier started their 2022 Moto2 World Championship season in the top 10 today with the pair battling together for the duration. At the completion of the Grand Prix of Qatar at the Losail International Circuit, it was Roberts in eighth and Beaubier ninth.
Beaubier's teammate Sean Dylan Kelly ended up 25th in his debut as a full-time Moto2 racer.
The race was won by Mooney VR46 Racing's Celestino Vietti, his first Moto2 victory coming a day after his first Moto2 pole position. Vietti dominated, besting Flexbox HP40's Aron Cannot by some six seconds. The final spot on the podium went to Elf Marc VDS Racing's Sam Lowes after IDEMITSU Honda Team Asia's Ai Ogura ran into Red Bull KTM Ajo's Augusto Fernandez in the final corner, knocking both wide and allowing Lowes through. Fernandez held on for fourth with Ogura slipping back to sixth behind Elf Marc VDS Racing's Tony Arbolino.
As for Roberts and Beaubier, it was Roberts who got the better start despite being a row behind the five-time MotoAmerica Superbike Champion as the pair ended lap one in seventh and 11th, respectively. The two Americans then settled into a race-long battle that also included Flexbox HP40's Jorge Navarro with Beaubier spending the early part of the race at the front of the threesome. Navarro, however, had better pace and ultimately took seventh with Roberts also finding his way past Beaubier in the closing stages.
Kelly, meanwhile, ended up just .142 of a second out of 24th after coming out on top of a battle with Niccolo Antonelli on his Mooney VR46 Racing Kalex by just .021 of a second.