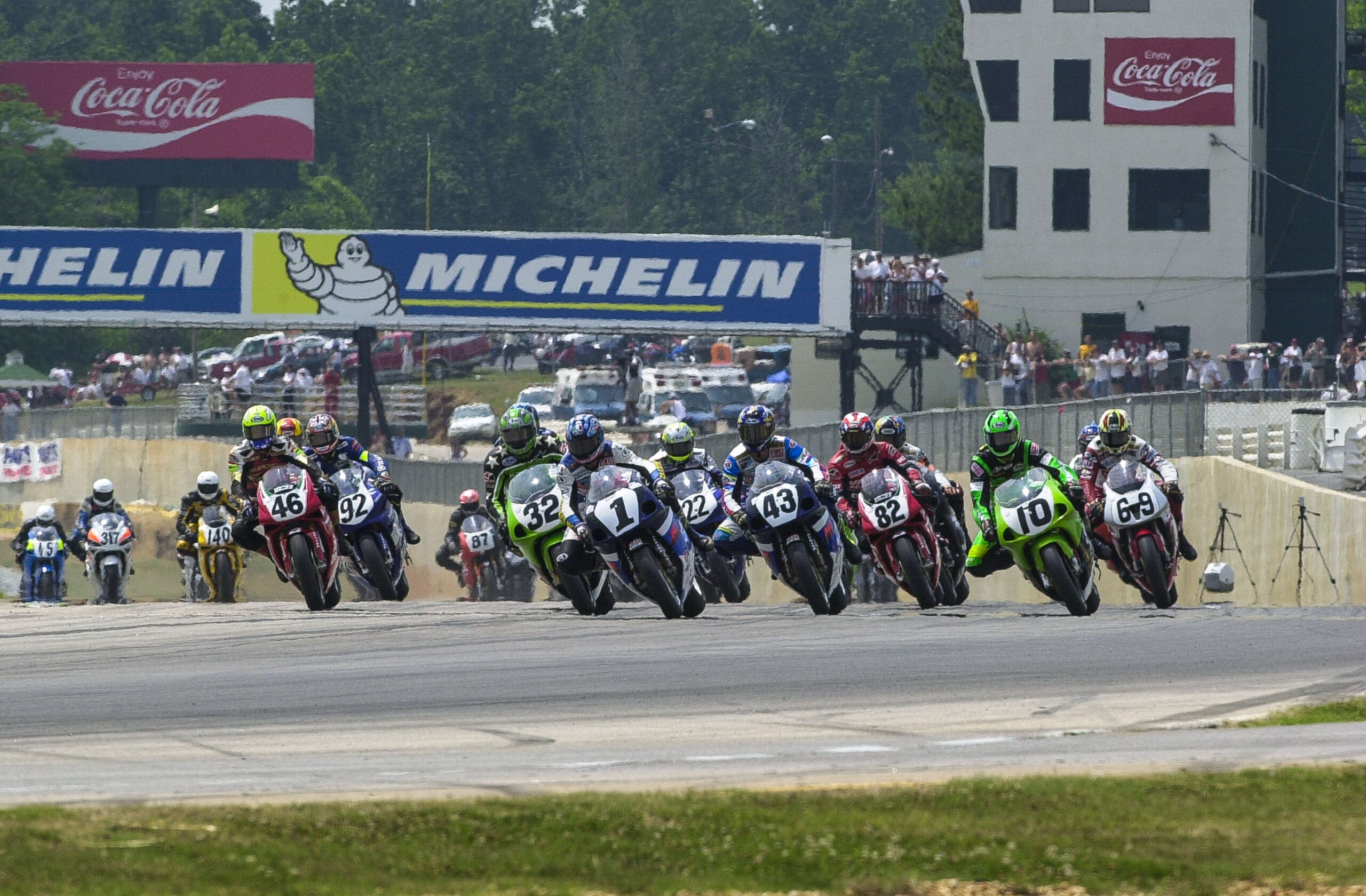 The MotoAmerica Superbike Championship came to a conclusion in both 2020 and 2021 with three races at the final two rounds—Indianapolis Motor Speedway and WeatherTech Laguna Seca in 2020, and New Jersey Motorsports Park in 2021. And, while three Superbike races in a single weekend was certainly unprecedented—and necessitated by repercussions from the COVID-19 pandemic—two AMA Superbike races on race weekends has been de rigueur for more than two decades.
It all started in 1998 at Road Atlanta. For two years, the "Big Kahuna" was the only event on the AMA Superbike schedule that featured two races in a single weekend. Then, in 2000, the Big Kahuna Nationals became a three-event championship within a championship. The Road Atlanta, Mid-Ohio, and Road America rounds of the 2000 AMA Superbike Championship all featured Superbike doubleheaders for the first time in AMA history.
The big news at Road Atlanta in 2000, round one of the Big Kahuna Nationals, was the return of 1987-1989 AMA 250 Grand Prix Champion, 1990 FIM World 250cc Grand Prix, and 1997 World Superbike Champion John Kocinski. Kocinski raced in the U.S. for the first time since 1989, on a Vance & Hines Ducati.
He took on a field of rivals that included Muzzy Kawasaki's Doug Chandler and Yoshimura Suzuki's Mat Mladin, who were both former teammates of Kocinski on the 1993 Cagiva World 500cc Grand Prix team.
But, while Kocinski's return got the advance billing for the event, he wasn't much of a factor in the race, nor the entire season, as it turns out. He finished seventh in race one and fourth in race two at Road Atlanta, seventh in the 2000 AMA Superbike final standings, and he really only made headlines that year at Road America, the final round of the Big Kahuna Nationals, when he made contact with his teammate Steve Rapp's front brake lever and caused Rapp to crashed while his Vance & Hines Ducati cartwheeled and tore itself to pieces in one of the most spectacular motorcycle crashes anyone had/has ever seen, even to this very day.
Along with Kocinski, several other riders saw the 2000 AMA Superbike season as a window of opportunity that was flung wide open by the absence of two contenders from Road Atlanta's past two Big Kahuna events. Anthony Gobert won one of the 1998 Big Kahuna races and both 1999 races on a Vance & Hines Ducati, but in 2000, he raced in the World Superbike Championship aboard a Bimota. Ben Bostrom finished third at both 1998 Big Kahuna races, also with Vance & Hines, and he was second at both 1999 races. But, in 2000, he was racing for Ducati in the World Superbike Championship.
Miguel Duhamel, who won 1998's Big Kahuna race one and was second in race two, was looking to reclaim his place on the podium at Road Atlanta in 2000. Nicky Hayden, who had won AMA 600 SuperSport Championship in 1999, and finished second in the 2000 Daytona 200, edged out by a mere 11 one-thousandths of a second by Mladin, was also a strong contender.
Yamaha's Jamie Hacking was third in 1999's Big Kahuna race one at Road Atlanta, and the winding, 2.52-mile course was Hacking's home track. It was also considered a home track for Hacking's Yamaha teammate and Nicky Hayden's older brother Tommy.
Mladin, who was the reigning AMA Superbike Champion, had finished third in 1999's Big Kahuna race two, and his Suzuki teammate, Aaron Yates from nearby Milledgeville, Georgia, were both looking for wins at Road Atlanta in 2000.
So, too, were three-time AMA Superbike Champion Champ Chandler and his Kawasaki teammate Eric Bostrom.
Who won the 2000 Big Kahuna at Road Atlanta? Mladin was victorious in both races that weekend on the way to the second of his seven AMA Superbike Championships.