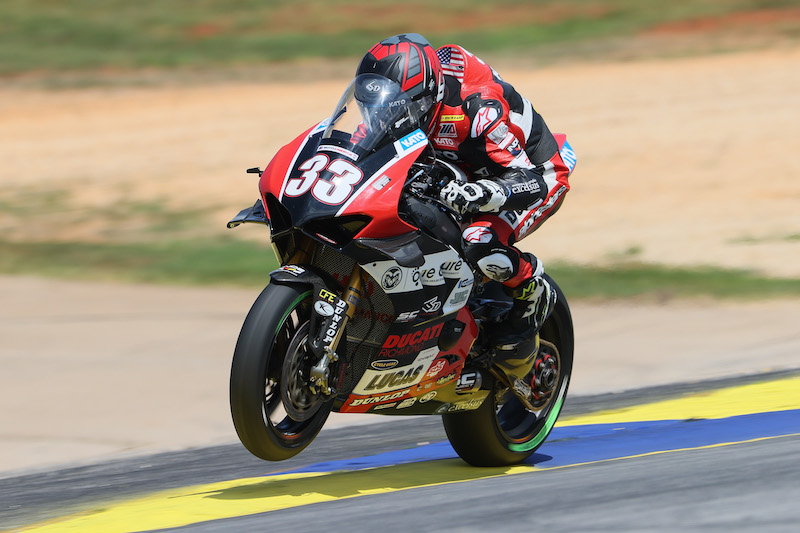 The following is from KWR Ducati…
Kyle Wyman (OneCure/KWR Ducati Team) salvaged 10 vital championship points in race two after a tough weekend at Michelin Raceway Road Atlanta for the third round of the 2020 MotoAmerica Superbike Championship.
In a weekend that saw heavy rains play havoc with the race program on Friday and a crash in Superpole on Saturday, Wyman's race one didn't get past lap four. In stifling humidity and while lying an impressive third behind the Yamaha duo of Jake Gagne and Cameron Beaubier, Wyman pulled into the pits with a mechanical issue on his OneCure/KWR Ducati Team Ducati Panigale V4 R, necessitating an overnight engine swap for Sunday's race two as Yamaha's Cameron Beaubier took the race one win.
The second race was a two-part affair after BMW's Danilo Lewis crashed out early, causing a red flag while Wyman was lying fourth. A restart followed and Wyman, starting fifth, lost out early off the line to be sixth by turn one. After getting caught up in the melee with BMW's Josh Herrin which allowed the top five to escape, Wyman had to settle for sixth place in race two, with Beaubier doubling up for another race win.
Although disappointed with race one's result, Wyman was upbeat about his Sunday showing and feels round four of the series, to be held August 7-9 at the Pittsburgh International Race Complex, will suit his Ducati Panigale V4 R.
Kyle Wyman (OneCure/KWR Ducati Team – Ducati #33)
"It's been a tough weekend, but we're happy to get out of Atlanta with some good points in race two," said Wyman. "I wasn't happy about Saturday as we were in a good position (third) when I had to pull in. We unknowingly broke a radiator on Friday and ended up blowing a head gasket on that engine.
"Last night we put a spare motor in for race two. I did 1:25's on it this morning in warm up, so I knew I could do the lap time. I got a good start and got in front of both Suzuki boys. I had good pace, then the red flag came out. The second time around, I got a bad start, and got hooked up with (Josh) Herrin, which slowed me up. By the time I shook him off, the top five were up the road. In all, we could have had two DNF's, so I'm pretty happy.
"Pittsburgh will be good. It was the first track we tested at with the Marelli electronics last Spring and raced there in August, so this will be the most time we've had at any particular track that we're about to race at. I'm looking forward to it."
The following is from Suzuki…
Once again, Suzuki Motor of America, Inc. and M4 ECSTAR Suzuki reaffirmed their status as paddock powers up and down the class order as the MotoAmerica AMA/FIM North American Road Racing championship completed Round 3 of the 2020 season this weekend at Road Atlanta in Braselton, Georgia. Sean Dylan Kelly's last lap, last corner pass for victory highlighted the event. Collectively, M4 ECSTAR Suzuki riders accounted for a victory, two runner-ups, a third, two fourths, two fifths, and two sixths across three classes on the sweltering weekend.
Sean Dylan Kelly registered the highlight of the weekend, storming to victory in Saturday's MotoAmerica Supersport contest with an astonishing final corner maneuver to steal away the checkered flag. Kelly's downhill pass showed both his skill and the never-give-up style that has earned him his status as one of the top young American racers. 'SDK' came back on Sunday and again exploited his superiority on the brakes to secure a runner-up finish to go along with his Saturday win. As a result, the 18-year-old phenom has now guided his M4 ECSTAR Suzuki GSX-R600 to five consecutive first- or second-place finishes.
"We definitely made a good step up this weekend," Kelly said. "We're going in the right direction overall, and we got our first win of the season this weekend. We still have things to work on, but we've just got to keep fighting like this. I need to give a huge thank you to the whole M4 ECSTAR Suzuki team for all their hard work."
The team's other supremely talented 18-year-old, Alex Dumas, enjoyed a breakthrough weekend of his own. The 2018 Junior Cup and 2019 Twins Cup champion has instantly proven himself a legitimate contender on a big-bore racebike in 2020. The French Canadian's continual improvement has seen him go from a seventh-place finish in his Stock 1000 debut, to a fourth in the follow-up, to a maiden podium finish with Saturday's third, and finally a runner-up finish on Sunday in his latest and most convincing statement performance to date.
Dumas, who led the opening three laps on Sunday and finished just 1.166 seconds short of victory on Sunday, said, "I had a really good start. By the end I had a little bit of brake fade, and I know everybody suffers from it around here. It was playing with my mind a little bit, so I just focused on doing some good laps to finish strong. "We had a really good weekend and keep getting closer to the win. I'm really looking forward to next weekend."
M4 ECSTAR Suzuki's Superbike squad scooped a pair of top fives in both premier-class races at Road Atlanta, with Elias finishing fourth to Fong's fifth on Saturday and the two trading positions a day later. Fong arguably 'enjoyed' the more memorable weekend of the two. The reigning MotoAmerica Supersport champion came into the weekend riding high after claiming his maiden Superbike win in the previous round. However, his hopes of repeating that feat took a huge hit when he crashed at high speed in Saturday morning's free practice.
Despite very much feeling the effects of that fall throughout the weekend, Fong gritted out fifth on Saturday and even challenged for the podium throughout Sunday's rematch before accepting a hard-earned fourth.
Finally, up-and-comer Lucas Silva continued his steady ways, upping his perfect season streak of Supersport top tens with two runs to sixth on the weekend.
The 2020 MotoAmerica series will resume next weekend at Pittsburgh International Race Complex at Wampum, Pennsylvania, on August 7-9.
The following is from Bradley Ward…
Bradley Ward raced to a career best MotoAmerica Superbike race finish of eighth in Saturday's opening race at Road Atlanta. His run of five consecutive points scoring finishes came to an end on Sunday following a retirement after the British rider 'cooked' his clutch.
The weekend itself was positive, Ward making it into Superpole for the first time, qualifying on the third row in eighths, as well as making great starts and running inside the top six on occasion. Race 1 especially showed that the #57 is a fighter and both he and the FLY Racing ADR Motorsports Kawasaki team are confident of two great races at the Pittsburgh International Race Complex this coming weekend.
Bradley Ward: "All in all not a bad weekend at all. I made Superpole for the first time and got to use the qualifying tyre for the first time. I made a good start and hung on to Dave (Anthony) and Cam (Petersen) for a few laps but the heat was brutal. It wasn't easy so it was a case of survival mode. I had a good battle with Geoff May and finished eighth, which is the best result of my Superbike career. I'm realistic and whilst it's a good result on paper I wasn't really satisfied with my lap times. I used Race 1's tyre for Warm-Up and put in a few decent laps and I was pretty confident for the second race. It was a little bit cooler on Sunday which helped as the temperature and humidity on Saturday was pretty bad. I got a really good jump and was running sixth or seventh before the red flag came out. With us not having a great deal of electronics and with me slipping the clutch a lot, especially at the starts, I burned the clutch out on the restart which meant a retirement from what would have been at least a top ten finish. I tried to nurse it home, but it was fried. Anyway, we have shown that we are making big steps and we only have to wait a few days to race again in Pittsburgh."
The following is from Westby Racing…
With three rounds completed in the 2020 MotoAmerica Superbike Championship, Westby Racing's Mathew Scholtz has also been on the podium three times so far, including two rostrum visits this weekend at Michelin Raceway Road Atlanta.
Mathew equaled his third-place finish in Saturday's race one with another third place in Sunday's race two, and in each event, he completed an all-Yamaha podium sweep aboard his iconic gold-and-black #11 Westby Racing YZF-R1. Of the two podium results, he was a lot happier with the one he got on Sunday, and he explained why.
"I got a decent jump off the line," Mathew said. "Jake (Gagne) passed me early on, and I started panicking slightly because I knew they would catch Toni (Elias) fairly quickly. So, I got past Toni around turn seven. Then I think a couple laps after that myself and Jake were going backwards and forwards maybe down to about one to two seconds. Then I think Jake upped his pace, and I had nothing for him. I was kind of sliding around a lot. Yesterday, I finished third, as well, and I wasn't happy because we were so far back. Today, I finished third again, but I'm actually really happy with the result. We kind of closed the gap to these two guys (Beaubier and Gagne). Both of them are riding really well. Hopefully, at Pittsburgh, we can continue making progress and close the gap to them."
Westby Racing's Junior Cup rider Cody Wyman, who finished eighth in Saturday's race one, was determined to improve on his results in race two on Sunday. His team made a couple of setup changes to his #34 Yamaha YZF-R3 to help improve the handling but, as has been the case in every race so far this year, Cody got caught up in a group of riders all racing together. He tried to time his draft-passes so that he would be at the front of the seven-rider pack when he took the checkers, but it didn't quite pan out the way he had hoped. His 12th-place finish was less than a second-and-a-half behind the sixth-place finisher.
Cody commented, "I got a decent start and passed a couple bikes early on, and in the opening laps, I knew we were stuck in a big battle for sixth place. I think there were seven bikes all bunched together, and I cycled through all of them throughout the entire race. It was just a strategy game, and I felt like I was in a good spot to draft some riders on the final lap. Unfortunately, it was a gamble and I got unlucky on the run to the finish line. Everyone was shuffling around, and we ended up on the wrong end of it.
"On the bright side, we're learning more every time we race, and we're continuing to develop the 2020 Yamaha YZF-R3. I'm looking forward to getting back on track in just a week. PittRace has been tough on me in the past, but I can't wait to get there and take up the challenge. Thanks to my team and sponsors for believing in me and this program."
Next up for Westby Racing is round four of the MotoAmerica Championship, which will take place next weekend at Pittsburgh International Race Complex (PittRace) in Wampum, Pennsylvania.
The following is from Yamaha…
Cameron Beaubier put on another masterclass performance aboard his Monster Energy Attack Performance Yamaha Racing R1 in Sunday's race two, sweeping the MotoAmerica Superbike weekend at Road Atlanta. Jake Gagne scored another runner-up finish to cap off a stellar outing for the team at Round 3 of the championship in Braselton, Georgia.
Beaubier got off to a great start from pole position with his teammate right behind him. The pair started to build a gap on the competition until the red flag came out right before the start of the third lap. On the restart, the defending champ missed the holeshot but was able to make the move inside of his rival into Turn 2. From there on, Beaubier set a blistering pace and went unchallenged for the remainder of the shortened 14-lap race to earn his seventh win at Road Atlanta. The victory helped expand his lead in the championship to 19-points over his teammate.
After the red flag, Gagne didn't get a repeat of his start either and was back in third. He made the pass for second on the first lap in Turn 6, but unfortunately, his teammate had already checked out in the lead. Undeterred, Gagne put his head down in the hot, demanding conditions and was able to close the gap to 2.5 seconds at the checkered flag and bring home another 1-2 finish for the team.
The Monster Energy Attack Performance Yamaha Racing team is back in action next weekend, August 7-9, for Round 4 of the MotoAmerica Superbike Championship at Pittsburgh International Race Complex in Wampum, Pennsylvania.
Richard Stanboli – Monster Energy Attack Performance Yamaha Racing Team Manager
"It was another great day for the team and the Yamaha R1 at Road Atlanta. We made some small improvements and both Cameron and Jake rode consistently to secure yet another 1-2 finish. Also, congratulations to Matt (Scholtz) and the Westby team for making it another Yamaha R1 sweep. We are looking forward to more of the same at Pittsburgh."
Cameron Beaubier – Monster Energy Attack Performance Yamaha Racing
"The weekend couldn't have gone better with the double along with a Yamaha sweep on both days! The guys had my bike working great all weekend and I was impressed with the times that we could do on race tires. I'm looking forward to lining up next weekend!"
Jake Gagne – Monster Energy Attack Performance Yamaha Racing
"We got off to a great start behind Cam, but unfortunately got caught with a red flag on lap two. On the restart I didn't get quite the jump and Cam set sail in the lead right from Turn 2. I had to make a close pass on Toni (Elias) on that first lap, but Cam was already really rolling right away. My first few laps weren't that good but I smoothed it out and got into a pretty nice rhythm. I'm happy to bring home another second at Road Atlanta. We've made a lot of progress this weekend so I'm really pumped to get to Pittsburgh next week and continue the fight!"
The following is from Jason Aguilar Racing…
Jason Aguilar added twenty-four points to his MotoAmerica Supersport Championship tally following two hard fought races at Road Atlanta this weekend.
Once again qualifying on the second row, Aguilar was left frustrated by his race one result – he finished fifth and was determined to make amends in Sunday's second encounter. A great start saw Jason match the leading riders for pace early on before he dropped back to finish a comfortable fourth at the flag.

The results cement the RiderzLaw Yamaha rider in fourth overall in the points standing after the first six races.

The next round takes place this coming weekend at the Pittsburgh International Race Complex.
Jason Aguilar: "I was so disappointed after Race 1 if I'm honest. I got a good start before the red flag, but in the restart, I got caught behind a couple of guys and ended up battling for fourth. The gap to the front guys was already too big by the time I had worked my way through. It was so hot, and I was struggling. I tried to keep Olmedo (Kevin) behind me but I screwed the last corner up and he got me on the line. So far, the worst result of the season and not what I wanted so I was determined to make something happen on Sunday. Race 2 was much better, and I am way happier with how it went. We made a small change and I was a lot more comfortable on the bike. I felt physically better and wasn't as tired and it showed in our pace. I got a good start, ran down the top three but after half distance the grip from the rear started to drop so I wasn't able to stay in the fight for the podium. I was trying to keep the pace, but we ended fourth. Compared to how yesterday went I am actually really happy. We scored solid championship points and we go to Pittsburgh next week healthy. Thanks to all my supporters and to the fans at the track – you guys are great!"
The following is from Hayden Schultz…
The Georgia heat was fierce but that did not stop team riders Hayden Schultz and Dante Witter from achieving their best results to date in the Twins Cup race. Team rider / owner Hayden Schultz progressed from his previous round results to secure his best finish of the year with a 2nd.
"I'm really happy with the progress we've made so far this year. The team did a great job giving me a competitive bike," said Hayden Schultz. "It felt great to be there with the front runners during the race for the first time this year. I knew coming into this race that we could be closer to the front at a more technical track. Right away I felt good and knew if we could get the bike handling well it would give us a shot to podium or fight for the win. I know there are still places I can improve in my riding and more progress to be made with the bike. Hats off to Gene Burcham, Gary Jeffries, Ron "Dink" Glidden, Mick Burcham, Kae Chang from aRacer USA, and John and Mike from Ohlins for all their effort to give me this opportunity. We've got one more step left on the podium and I know we can get there."
The team was joined by a Dante Witter this weekend, making it a two-rider effort. Dante was making his pro debut at his home track and had high expectations. Without previous track time on the Yamaha FZ-07, Witter was able to adapt quickly and found himself close to the top 10 in qualifying. With his goal in sight, he managed to put his head down and finish his debut with a 9th, posting his best time of the weekend on the final lap.
"This has been a highlight of my racing career! I have learned so much over this past weekend on and off the track in such little time," Witter said. "I am grateful for the rental program giving me this opportunity and more than happy with the results. It was a pleasure riding with the Hayden Schultz Racing Team and I am hoping I can do this is again sometime soon! Huge thanks to my dad, Hayden, his family, and the team for all their help and support! Truly a surreal experience."
The team thanks its 2020 sponsors for their support: Law Tigers, Brittenum Construction, aRacer USA, Ohlins, Glidden Racing, 6D Helmets, RS Taichi USA, Moto Liberty, Blud Lubricants, Wossner Pistons, Robem Engineering, Dreyer Motorsports, Full Spectrum Power, Vance and Hines, Woodcraft Technologies, Shundi Self Storage.