The following is from Westby Racing…
Superbike Championship Leader Scholtz Is Ready To Press His Advantage This Weekend In Virginia
Round two of the 2021 MotoAmerica AMA/FIM North American Road Racing Championship starts this Friday at VIRginia International Raceway in Alton, Virginia, and current Superbike points leader Mathew Scholtz, along with his Westby Racing team, will be looking to build on his race win and runner-up finish from round one at Michelin Raceway Road Atlanta.
Meanwhile, JR12 Racing/Westby Racing's Junior Cup rider Jack Roach is eager for more seat time aboard his Yamaha YZF-R3, especially at a track that is new to him.
For Mathew, VIR's 14-turn, 2.25-mile natural road course is one of his favorite racetracks on the MotoAmerica schedule, and he's looking forward to returning there after MotoAmerica took a one-year hiatus from the venue due to COVID-19.
"I'm excited to get the VIR round started this weekend, especially after coming off a solid round at Road Atlanta," Mathew said. "I know that we are going to have our work cut out for us this weekend, but VIR has always been a very strong track for me. It really suits my riding style. There are a lot of switchbacks, and you need a lot of front-end feel with those, which the Westby Racing Yamaha R1 Superbike has in spades. I've been training extremely hard on the motocross bike the past few days, and I feel a lot more confident than I ever have. I'm just going to take things as they come, but I'm expecting some pretty good results and to be fighting up front as usual. We're looking to get up to speed quickly so we can work on our race pace. I feel like we are getting stronger every time I'm on the bike, and we have a solid game plan for how to improve the areas where we were a little bit weak in the first race weekend. All is well, and I can't wait to see all the Westby crew and carrying on with where we left off at Atlanta, which is to maintain the lead up front."
Superbike final qualifying is on Saturday morning at 11 a.m. ET, Superbike race one will go green on Saturday afternoon at 3 p.m. ET, and Superbike Race 2 is on Sunday afternoon also at 3 p.m. ET. Both races will be broadcast live on FOX Sports 2 (FS2), as well as streamed on MotoAmerica Live+.
For Jack, VIR presents a new challenge. He has never before raced at the venue, and his only experience there was gained during a track day earlier this year in what turned out to be wet conditions. But the young Brit, who now lives in Canada and races here in America, is used to new experiences, and he goes into Virginia with his usual level of gusto and enthusiasm.
Jack commented, "Following what was a very tough first round at Road Atlanta, I am as hungry as ever for results. I've just got to transfer that hunger into speed on the track, which I know I can do. I have no excuses now because (Westby Racing team manager) Chuck Giacchetto has dedicated a lot of his time to the Yamaha R3, and I'm very grateful for that. VIR is a track that I don't have a lot of experience at, but my plan is to take it corner by corner, lap after lap, and session by session. I'm super-excited, and I can't wait for the race weekend to begin."
Junior Cup race one starts on Saturday at 5 p.m. ET, and Junior Cup race two is on Sunday at 2 p.m. ET. Both races will be broadcast via tape-delay on FOX Sports 2 (FS2) this Tuesday, May 25, beginning at 9 p.m. ET. In addition, both Junior Cup races will be streamed on MotoAmerica Live+.
Pick Up Some FREE Westby Racing Collectibles
Westby Racing has produced some great collectibles featuring Mathew and Jack, and they'll be available at the team transporter throughout the weekend, so swing by and pick some up while maintaining proper social distancing.
Check Out The Westby Racing Sponsor Showcase
Capit Performance Srl, Drippin' Wet, SBS Friction A/S, Superbike Unlimited, and Suter Racing Products will be the featured team sponsors on display in the Westby Racing paddock area, so be sure to stop by to say hello and learn about some of the companies that support the team.
For more updates about Westby Racing, including news, photos, and videos, visit https://www.WestbyRacing.com

Also, follow "Westby Racing" on your favorite social media sites.
—
The following is from Kyle Wyman Racing…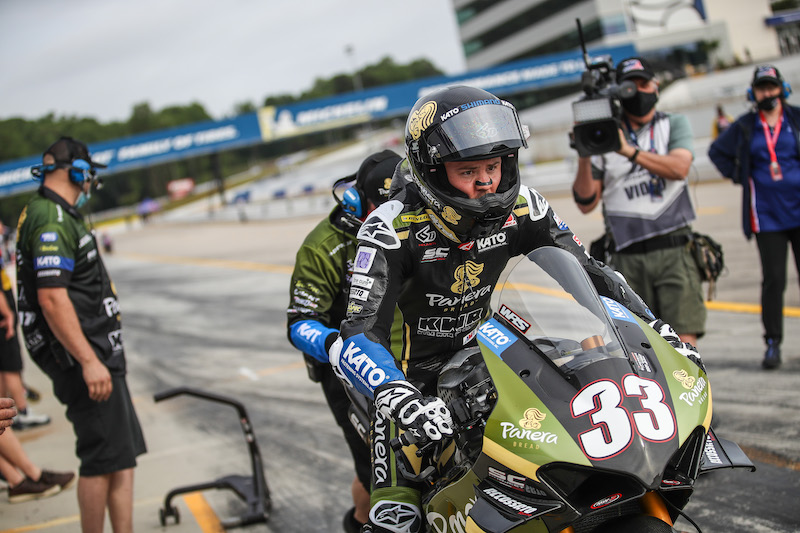 KWR/Panera Bread Ducati Team Heads To Virginia International Raceway
The KWR/Panera Bread Ducati Team heads to Virginia International Raceway this weekend for round two of the MotoAmerica Superbike Championship. Rider Kyle Wyman looks to improve on the Road Atlanta performances to fight for podium finishes in Alton, Virginia.
The KWR Team has been hard at work preparing the Ducati Panigale V4 R Superbike for battle as the series starts to find its rhythm. With limited testing time the team is still aiming for podium results, with a capable bike and rider that can get the job done. For Chief Mechanic Dave Hopkinson, it's an opportunity to try some new parts and put the latest version of the KWR Ducati to work.
"I'm excited for this weekend," Hopkinson said. "For me personally it's a new track with MotoAmerica not having raced here last year. I'm excited also because following a successful first outing for our all-new bike at Atlanta, we now have further new parts from Accossato to use at VIR that I'm hoping will further improve our new bike. It's been busy in the gap assessing the Atlanta weekend, making improvements and changes ready to take on VIR. We are still learning about the new bike but are excited about its prospects as we enter round two."
With the team evolving from a technical standpoint, Wyman says the key to having a successful weekend in Virginia will be to spin numerous, quality laps on Friday.
"The bike is in a good place, and I'm in a good place," Wyman said. "In Atlanta we had some technical issues on Friday that caused us to miss a lot of quality track time. This week we need to make sure Friday goes smoothly and that I can get a lot of laps to get more familiar with the bike. It's truly the best Superbike I've ever ridden. I just need to develop the confidence to push it to the maximum, and to accomplish that we need laps."
Please visit our sponsor page to support the companies who support KWR!
See the VIR MotoAmerica weekend schedule, HERE.
For more information about Panera Bread, visit www.panerabread.com.
Stay tuned for news and updates on KWR at www.kylewyman.com
—
The following is from Travis Wyman Racing…
Travis Wyman Racing BMW Announces Shair As Title Sponsor For This Weekend's MotoAmerica Superbikes At Virginia
Travis Wyman Racing BMW is pleased to announce Shair – a car sharing service that is active in 49 states – is the team's title sponsor for MotoAmerica's Superbikes at Virginia round, which takes place May 21-23 at VIRginia Raceway in Alton, Va.

Shair will have its logo on rider Travis Wyman's BMW S 1000 RR as the pro road racing veteran – who is the leader in MotoAmerica's Stock 1000 Class and Superbike Cup standings – aims to score his second career victory on VIR's 2.25-mile North Course.

The Las Vegas rider scored a victory and a third place in the Stock 1000 races at Road Atlanta April 30-May 2 and was the top-finishing Superbike Cup rider in both Superbike races.

"VIRginia International Raceway is one of my favorite tracks on the MotoAmerica calendar, and I'm happy to have Shair on board as my title sponsor at a track I've had strong results at on the BMW," Wyman said. "I expect to be battling for more top finishes this coming weekend. My goal is to extend my points lead in both classes, as well as get Shair's branding in the middle of a MotoAmerica podium celebration."

As the car-sharing platform that works hard for its car owners, Shair offers better, cleaner cars and a thorough verification process that puts car owners and customers at ease about the car sharing process. Based in Costa Mesa, Calif., Shair enables car owners to generate revenue from a wide variety of car makes and models. Among the thousands of cars available for booking through Shair are the Chevrolet Corvette, Tesla Model X, Bentley Continental and Porsche 911 Carrera 4S.

"We're changing the way people think about their cars, and MotoAmerica fans are just one of the many motor sports audiences we're working to build brand awareness among," Shair co-founder Garrick Delafuente said. "MotoAmerica has experienced a lot of growth in terms of viewership and social media engagement. Supporting Travis' program is a cost-effective way for us to get our message out to MotoAmerica fans across the country. This is just the beginning of our campaign to reach MotoAmerica fans, and we look forward to working with Travis as one of our long-term marketing partners."

For those attending the MotoAmerica round at VIR, stop by the Travis Wyman Racing transporter to check out banners that will help fans learn how to join the Shair community.

To learn how to Shair your car or join the ranks of Shair customers, visit www.shairyourcar.com.
—
The following is from Westby Racing…
Spears Joins Westby Racing As Official Team Partner
Westby Racing proudly welcomes Spears Enterprises/Spears Racing as a supporting sponsor for the team's YZF-R3 race program competing in MotoAmerica's Junior Cup Championship. The announcement was made by Chuck Giacchetto, team manager of Westby Racing.
About the new partnership with Westby Racing, Gregg Spears, president and founder of Spears Enterprises/Spears Racing, said, "Working with Westby Racing for the 2021 MotoAmerica Junior Cup series is an honor in itself. This is a team that has years of racing experience under their belts and a tremendous work ethic and drive to be the best. Working with, and learning from, Chuck Giacchetto gives us a great opportunity to develop our 'small-displacement' Yamaha R3 racing efforts and products here in the U.S. and around the world."
Chuck commented, "For me, in regard to the 'small-displacement' bikes, Gregg Spears has set the bar for quite a while. When Gregg offered his expertise to our Junior Cup team, we, of course, accepted the offer with open arms. Thus far, Spears Enterprises has shown a lot of knowledge and, in particular, a ton of integrity, which is the backbone of Westby Racing. I think we stand to learn an awful lot about making the Yamaha R3 the best it can be, and I know we have excellent partners this season to give our rider Jack Roach the best possible chance to achieve his goals and run up front in the 2021 MotoAmerica Junior Cup Championship aboard the #12 JR12/Westby Racing Yamaha R3."
Located in Manteca, California, Spears Enterprises/Spears Racing is an industry leader in the design and manufacturing of high-performance, lightweight parts for the Yamaha R3 and the Kawasaki Ninja 250/300/400. Working with specific road racers and teams, Spears has become a recognized force in MotoAmerica, AFM, CCS, and WERA. Spears Enterprises/Spears Racing has expanded its efforts to include racers and teams across the U.S., and also in Australia, Germany, Ireland, New Zealand, and the United Kingdom. Spears-equipped teams have won numerous championships all over the world.
For the Yamaha R3, and as a result of the MotoAmerica Technical Bulletin that was issued on 1/2021 and updated on 2/12/2021, Spears Enterprises/Spears Racing has created a standalone section on their Website, which provides R3 customers with quick and easy access to the specific engine components and services that are approved/authorized by MotoAmerica Technical Control for their race bikes.
For more information about Spears Enterprises/Spears Racing, visit https://www.spearsenterprises.com
For more Westby Racing updates, including news, photos, and videos, visit https://www.westbyracing.com
Also, visit "Westby Racing" on your favorite social media site.