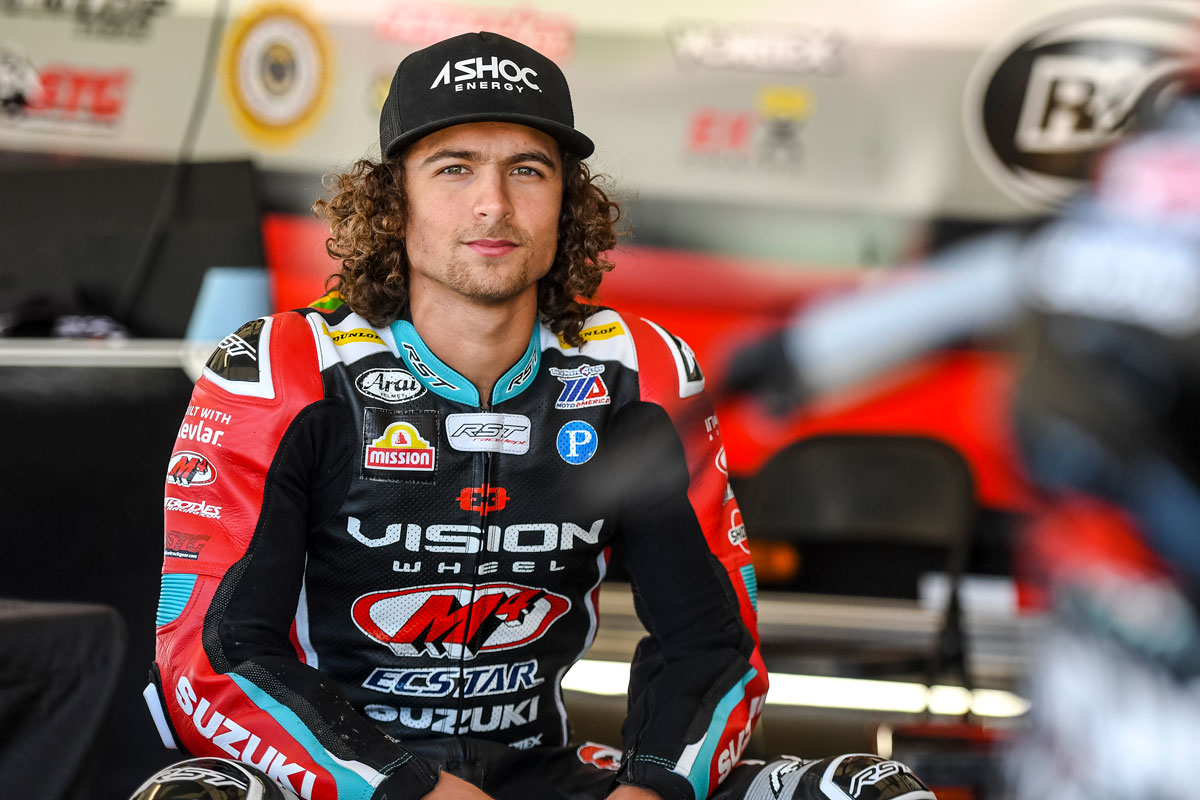 The following is from Suzuki Motor USA, LLC…
Vision Wheel M4 ECSTAR Suzuki racer Sam Lochoff will return to action at this weekend's 2022 MotoAmerica AMA/FIM North American Road Racing round at New Jersey Motorsports Park. Lochoff missed the last three Supersport rounds of the series at Laguna Seca, Brainerd International Raceway, and Pittsburgh International Race Complex due to injury.
Lochoff, who won titles in his native South Africa and Europe earlier in his career, broke through as a MotoAmerica Supersport race winner last year in New Jersey. Lochoff finished third in Supersport points in 2021 and earned the podium six times
The 20-year-old had high hopes for the 2022 season and finished second in both Road Atlanta contests before a training accident left him with broken bones for the Virginia round. Lochoff tried to race through the injury but more crashes during the season meant he could not make strides in his recovery from a number of broken bones. Due to his physical condition, Lochoff missed six races.
"You have to train very hard to see the results we expect, and you cannot eliminate risk in training, no matter what. That's the nature of our sport" said Lochoff. "There was a risk with motocross, but I was feeling myself get stronger. Then I had an accident and that was that."
"I'm not 100 percent but the doctor says I won't do any further damage by racing on it," said Lochoff. "I will be able to manage the pain. I really want to get back racing. We've got two more events to see what we can do. I'm looking forward to seeing how the next generation GSX-R750 has developed since I have been out. I was excited to see what Cory Ventura was able to do while I was recovering."
Team Hammer would like to thank Cory Ventura for his performances as Lochoff's replacement. The young racer finished in the top five on three occasions and was competitive in his time on the team's Suzuki GSX-R750.
Team Hammer will be back in action on September 9-11 for the penultimate round of the 2022 MotoAmerica AMA/FIM North American Road Racing season at New Jersey Motorsports Park in Millville, New Jersey.