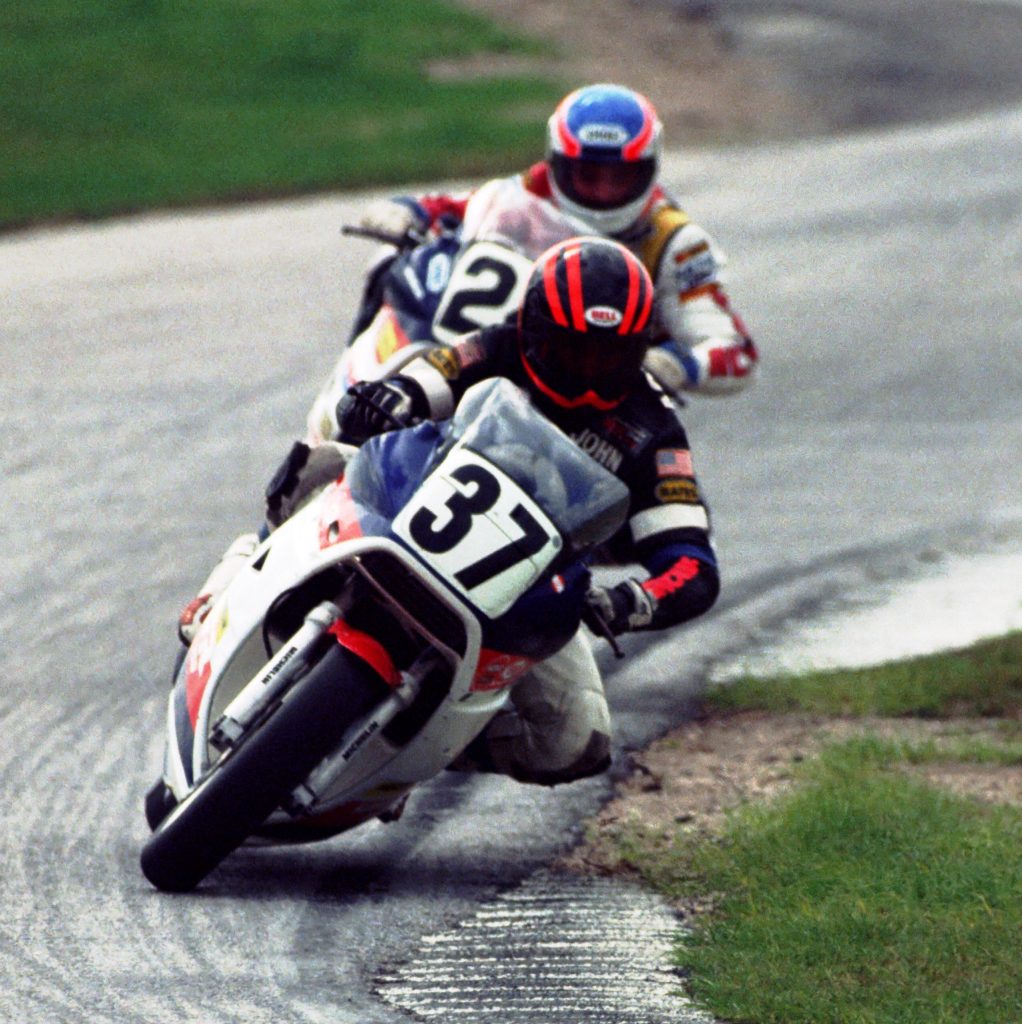 MotoAmerica has announced that 1989 Daytona 200 winner John Ashmead will be honored prior to the start of the 81st running of the Daytona 200 on March 11, with 2016 Daytona 200 winner Michael Barnes set to take a memorial lap of Daytona International Speedway to honor his fallen friend. Ashmead passed away in October of 2022 after a brief bout with cancer at the age of 59.
In addition to winning the 1989 Daytona 200 on his privateer Honda VFR750, Ashmead is the all-time race mileage record holder with 4573 miles completed from his 34 Daytona 200 starts. Ashmead's 34 starts in the Daytona 200 includes a run of 28 consecutive appearances in the race, a mark that ties him with Rick Shaw and Wayne Sherwood.
Ashmead's upset victory in 1989 also marked the last AMA Superbike victory for Honda's legendary VFR750 while his win also put Ashmead in the history books as the first rider from Florida to win the Daytona 200.
Ashmead was as surprised as anyone with his victory.
"I looked up and saw my number on top," Ashmead said after taking a look at the scoreboard on the final lap. "I thought it was a mistake, I couldn't believe it."
In addition to his Daytona 200 victory on March 12, 1989, Ashmead also won an AMA Superbike National at Laguna Seca in 1985.
"Since John won the Daytona 200 in 1989, I've always thought about how special it was for him to do that," said Barnes. "And then for me to become the next Floridian to do it in 2016, so many years later, and to share it with him was special. John and I spent a lot of miles on the road together traveling to various races and he was a dear friend who is greatly missed. For me to be able to do this lap to honor him means the world to me."
"Without hesitation, everyone I talked to about doing a lap of honor for John (Ashmead) said, 'absolutely, let's make it happen,' " said Bridgestone's Warren Dunham. "I'd like to thank MotoAmerica's Chuck Aksland and Daytona International Speedway's Andrew Gertis, along with Roadracing World's John Ulrich and Paul Schwemmer. Also, Bridgestone Tire for giving me the resources and the flexibility in my schedule to make this happen. Most of all, I want to thank Michael Barnes for coming out of retirement to do this honorary lap and to pay tribute to one of the Daytona 200's and Florida's finest road racing legends – Mr. John Ashmead."