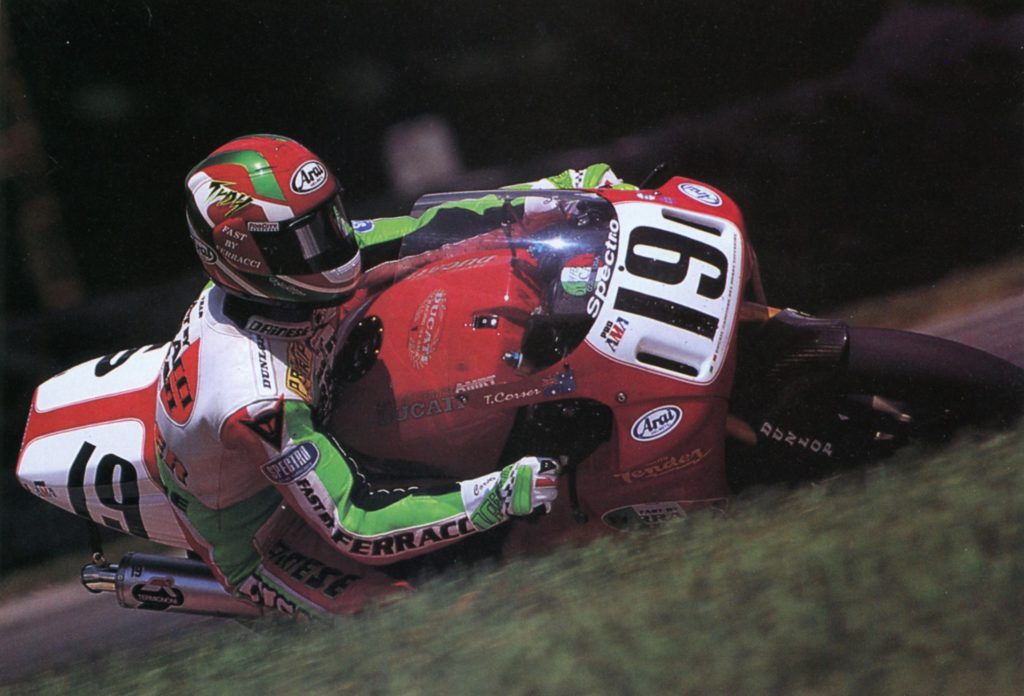 Twenty-eight years ago, three points separated Yamaha's Jamie James from Ducati's Troy Corser as they went into the final round and last race of the 1994 AMA Superbike Championship.
Four points currently separate Yamaha's Jake Gagne from Ducati's Danilo Petrucci as they go into the final round and last two races of the 2022 MotoAmerica Medallia Superbike Championship.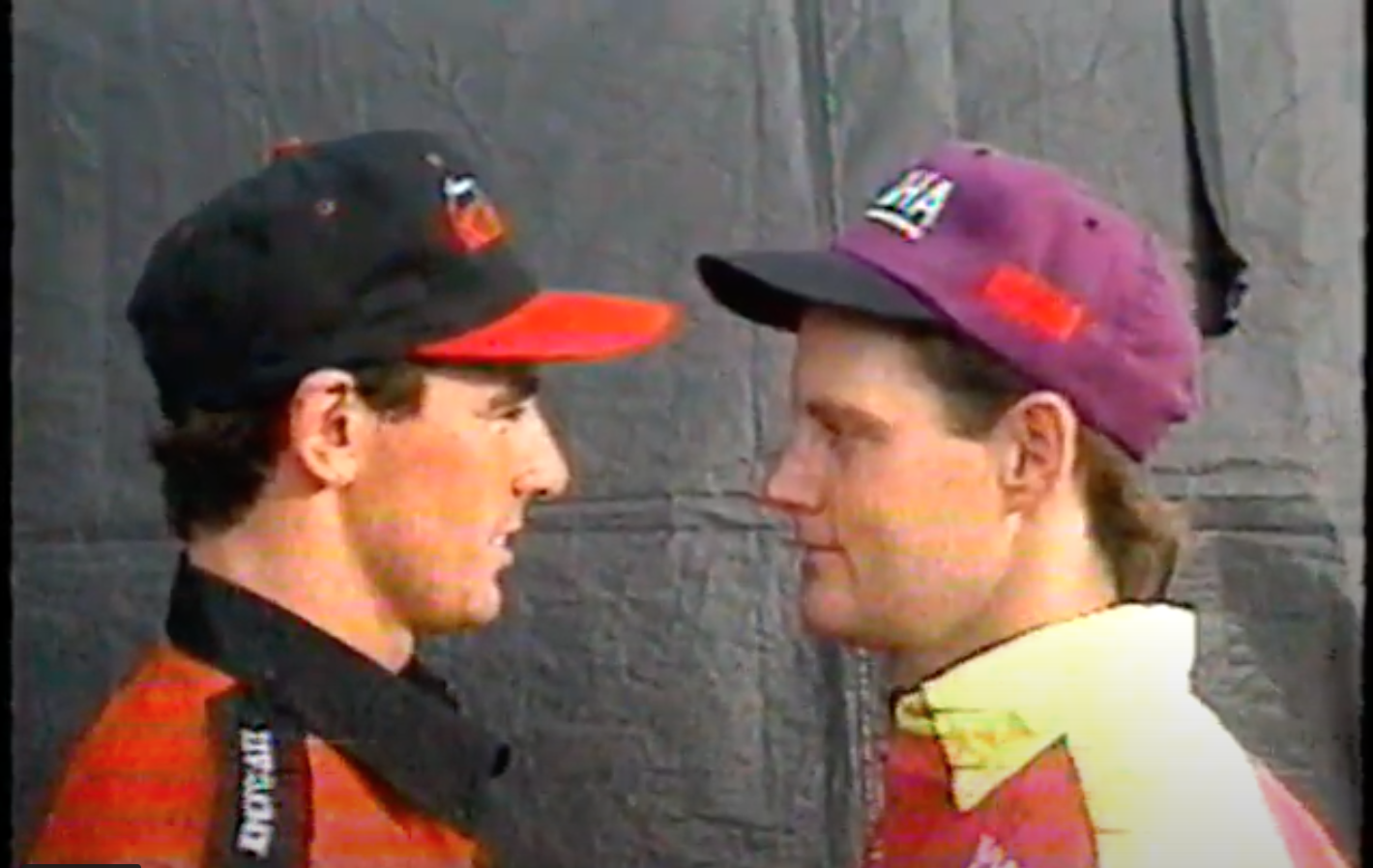 It's another Showdown in the Southeast for two long-time rival brands, so let's take a look back at September 19, 1994.
The 1994 Vance & Hines Yamaha Superbike team consisted of steely veteran Jamie James, who had won the 1989 AMA Superbike Championship aboard a Yoshimura Suzuki, and young upstart Colin Edwards, whose three Superbike wins in 1994 vaulted him to the World Superbike ranks and launched his international stardom.
James battled it out all season long with Fast by Ferracci Ducati rider Troy Corser, and Corser had won three races that season, while his teammate Pascal Picotte had won two race. And yet, despite not recording a single race victory, James led the championship by three points.
In qualifying, it was James' teammate, Colin Edwards who edged out Muzzy Kawasaki's Scott Russell for the pole with Picotte and fellow Fast by Ferracci Ducati-mounted David Sadowski rounding out the front row. James and Corser qualified on row two in fifth and sixth places, respectively. By the way, Sadowski had leased a Fast by Ferracci Ducati for Road Atlanta, in the hope that he could put in a good enough showing to secure a ride on the team for 1995. As it turns out, Ski played a pivotal role in the championship battle.
In Sunday's race, Picotte got the holeshot, but when the field came back around to complete lap one, it was Mike Smith on the Smokin' Joe's Honda who was out front, followed by Picotte, Sadowski, James, and Russell. In fairly short fashion, Russell rocketed from fifth to first and immediately pulled away from the from the rest of the field. At the halfway point of the 25-lap race, Russell had built a comfortable lead followed by Corser, Picotte, Sadowski, Edwards, and James, who were all in a fierce battle for the runner-up spot.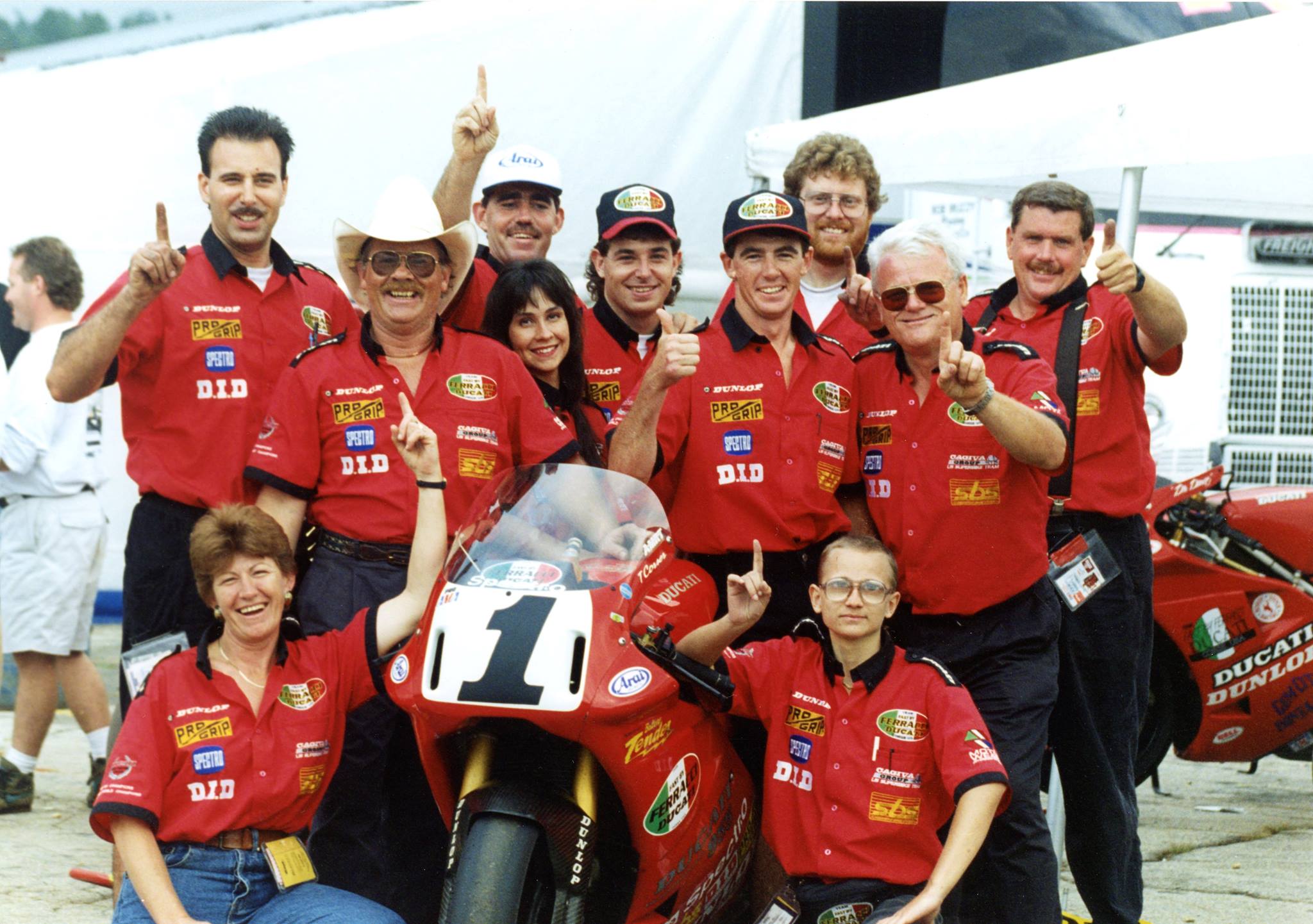 At that point, team orders came into play as Edwards waved James by and fell in behind him as the teammates began moving towards the front of the group. On lap 17, James moved into third behind Corser and soon passed him to lead the group with Edwards right behind him. Corser went back around Edwards and began challenging James for the second position. And then, on lap 19, suddenly, James' Yamaha started losing power, and he began dropping back.
The final five laps of the race were frantic as Corser began fading back, while Picotte, who thought James was out of the race, went after Edwards for second, only for Sadowski to pass them both with only a couple of laps left. With one lap to go, Sadowski began to fall down the order, which left Edwards and Picotte to settle things for the runner-up spot. James, despite the technical problem with his bike, was still in seventh place, which would have been good enough to clinch the championship if Corser ended up fifth.
On the final lap, as the leaders started down the back straight, Sadowski seemingly allowed Corser to pass him for fourth. As the checkered flag flew, it was Russell taking a dominating win followed by Picotte, Edwards, Corser, and Sadowski.
By finishing fourth, Corser won the 1994 AMA Superbike championship by a single point over James.
Watch the entire 1994 AMA Superbike season finale from Road Atlanta here:
1994 AMA Superbike Championship
1. Troy Corser – Ducati – 273
2. Jamie James – Yamaha – 272
3. Takahiro Sohwa – Kawasaki – 251
4. Pascal Picotte – Ducati – 245
5. Colin Edwards – Yamaha – 239