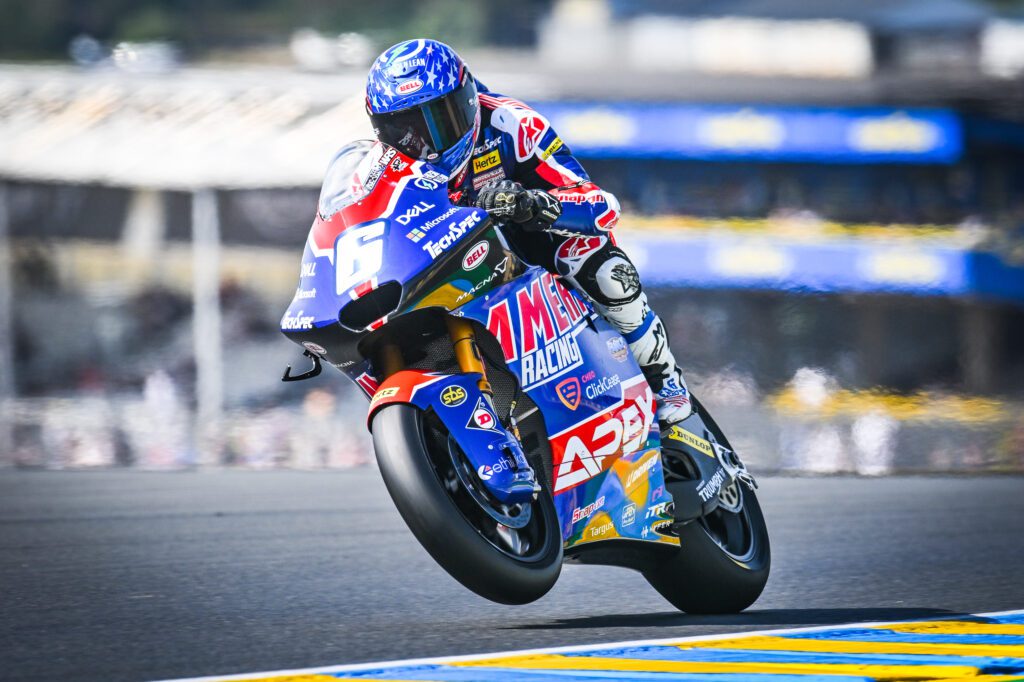 American Racing's Cameron Beaubier finished a career-best fourth in today's French Grand Prix at Le Mans, the five-time MotoAmerica Superbike Champion fighting through from 16th on the grid to battle for second to the very end and missing out on his first Moto2 podium by just .117 of a second. To make matters even better, Italtrans Racing's Joe Roberts also fought through from a poor qualifying effort to finish seventh and put two Americans in the top 10.
Beaubier's teammate Sean Dylan Kelly had a rough French GP, the 2020 MotoAmerica Supersport Champion finishing 20th after having to pit with a mechanical issue before rejoining the race to finish two laps down.
"I couldn't ask for much more from today starting where we did," Beaubier said. "I felt really good on the bike and was able to work my way up. I was pretty comfortable sitting behind (Aron) Canet until the last six laps or so, then I started having to ride on the ragged edge to stay with the struggling grip. A podium would have been amazing for the team, but I'm stoked with how I rode, and we will keep up the fight."
The race was won by Red Bull KTM Ajo's Augusto Fernandez, the Spaniard taking full advantage of his teammate Pedro Acosta crashing out of the lead. Once that happened, Fernandez was never headed as he cruised to a 3.7-second victory over Flexbox HP40's Aron Canet. Canet, meanwhile, had gotten the better of Beaubier and IDEMITSU Honda Team Asia's Somkiat Chantra, with Chantra beating Beaubier to the line for the final podium spot by .117 of a second.
Fifth place went to Chantra's teammate Ai Ogura with the Japanese rider some 10 seconds adrift of Beaubier. Liqui Moly Intact GP's Marcel Schrotter was sixth.
Roberts won the battle for seventh, topping World Championship leader Celestino Vietti by just .819 of a second.
"I'm happy with today, but also a little disappointed, because starting from another position I could have fought for the top three," Roberts said. "However, it was a very positive race, with a great comeback. We must continue to work to better set up qualifications. We have high potential, and I can't wait for the next race."
Vietti now leads the title chase by 16 points over Ogura, 108-92. Canet is third, just three points behind Ogura. Roberts is sixth in the championship, and Beaubier moves up to 14th and seven points from 10th.