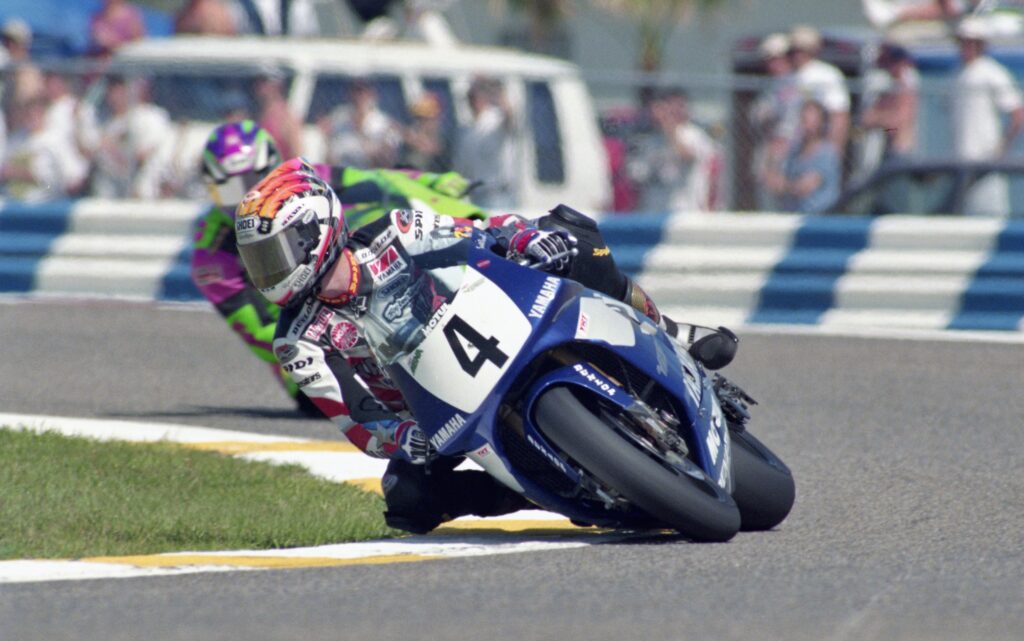 With the news that MotoAmerica is headed to Daytona International Speedway in March of 2022 for the Daytona 200, we decided the perfect way to build excitement for the event would be to start digging through the history books and memory banks. Since Paul Carruthers is literally as old as the Speedway itself and covered almost 30 Daytona 200s as a journalist while working at Cycle News, it was a no-brainer that it would be him who would take on the task of trying to recall the good and the bad. And since we are the home of the AMA Superbike Series, we figured we'd have him start his look back with the 1985 Daytona 200 – the first of the 200s to feature Superbikes – and go from there. This week, we focus on the 1997, 1998 and 1999 Daytona 200s.
1997
Winner: Scott Russell, Yamaha YZF750
Scott Russell won the Daytona 200 in 1997 for the fourth time in six years. Throw in the fact that he was second in the two he didn't win, and you could see how he was cementing his Mr. Daytona moniker. And his fourth victory was his easiest to date. After all, he didn't start at the back of the grid, he didn't crash, remount, and still ride to victory, and he didn't win a drafting war to the finish line. This time he led all but three of the 57 laps as there was simply no one capable of matching the Yamaha rider's pace on a warm and sunny March day in Southern Florida.
The Turning Point: The turning point was simple really. There wasn't one. Russell was the fastest man at Daytona all week and he was the fastest during the race. And that turned the race into a rout, even though it was Russell's first-ever race on the Yamaha YZF750. He had them beaten before the 200 even started. "It's a little bit intimidating of course with Scott coming to the team – with him winning here three times," Texan Colin Edwards said after finishing third – again. "I tried to put it out of my mind, but I think it still lingers."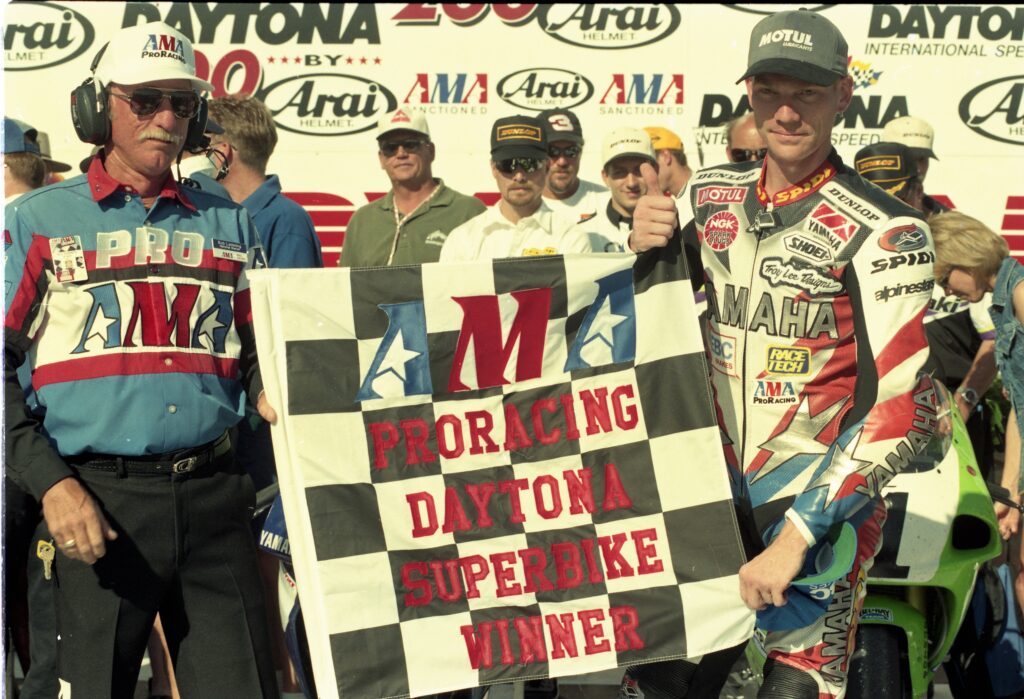 Newsworthy: Muzzy Kawasaki's Doug Chandler was the man who came closest to beating Russell with the Californian 4.5 seconds behind at the finish. This was a bit misleading, however, as a pace car was used for several laps in the closing stages of the race which allowed Chandler to close the gap. Second place was a career best for Chandler in the 200.
Third place went to Russell's Yamaha teammate Edwards, the Texan burning up a tire on just the 15th lap while trying to match Russell's pace. The early pit stop put him on his back foot and he was never able to gain any ground on Russell or Chandler. Third was the best he could do for a second straight Daytona 200.
Russell earned his third Rolex chronograph during qualifying for the Daytona 200, the Georgian and his Yamaha lapping under the lap record with a 1:48.999 to knock his teammate Edwards off pole. "I really wanted Colin (Edwards) to win the watch, to be honest with you," Russell said.
Australian Mat Mladin came into Daytona with the lead in the AMA Superbike Championship, but a miserable day in the 200 meant that it was Chandler who left Florida with the points lead. Mladin's Fast By Ferracci Ducati developed an oil leak, the crew worked on the bike for eight laps and then sent Mladin back out. He later crashed in turn one and was lucky to escape injury.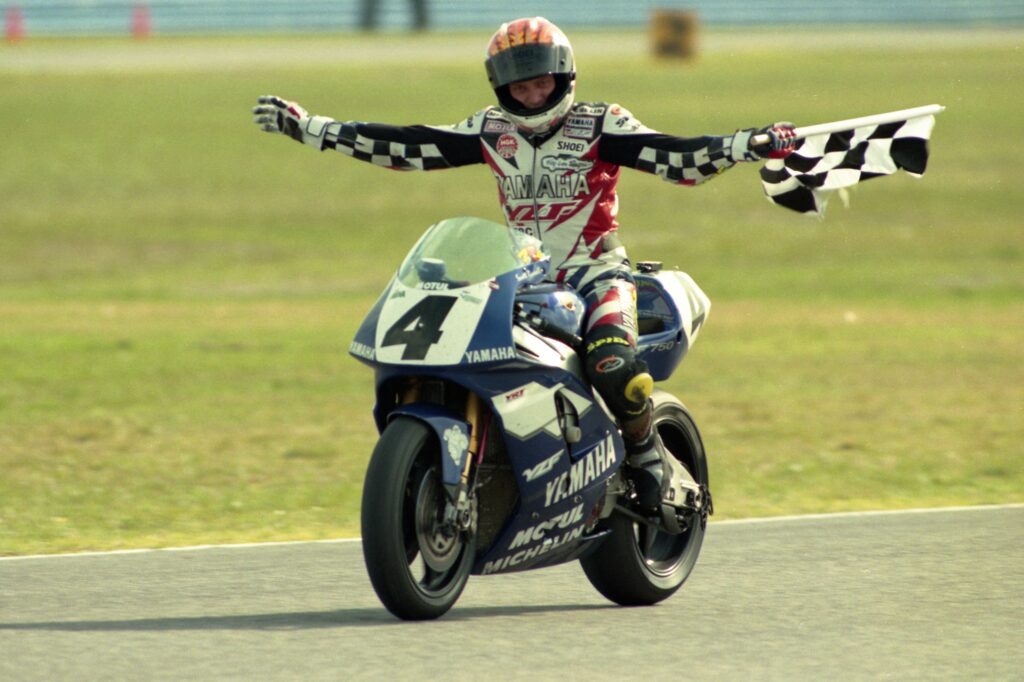 1998
Winner: Scott Russell, Yamaha YZF750
For the fifth time in 11 tries, Scott Russell won the Daytona 200 in 1998 – his second in a row and fifth overall. And this one was another you could call easy. For almost 67 miles, the Daytona 200 resembled a race. For the remaining 133 miles, it was just playtime for Russell as he wheelied and waved his way to victory on his factory Yamaha – adding even more to the legend of Mr. Daytona.
The Turning Point: For almost 68 miles, Miguel Duhamel was giving Russell fits as he tried to repeat his race of two years prior when he out-gunned Russell to the flag in the closest Daytona 200 to date. But it all ended badly for Duhamel when he crashed out of the battle in the chicane, handing Russell a nice comfy day at the office.
Newsworthy: The win in 1998 was Yamaha's 18th in the Daytona 200, which at the time was more than any other manufacturer.
For the second straight year, Muzzy Kawasaki's Doug Chandler finished second in the 200, some 7.5 seconds behind Russell. Third place went to Yamaha's Superbike rookie Jamie Hacking in what was his first-ever Daytona 200. "What else can I ask for? I feel like I'm sitting on top of the world right now," Hacking said in the post-race press conference.
Yoshimura Suzuki's Mat Mladin finished fourth, earning himself enough points to leave Daytona tied for the lead in the AMA Superbike Championship.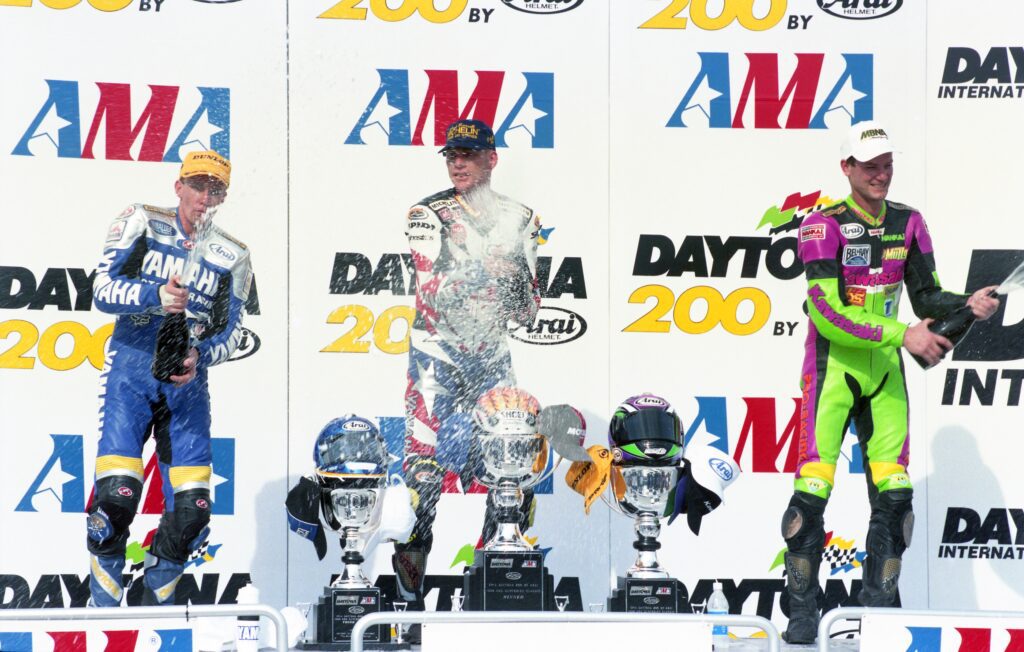 Despite suffering a broken jaw in a bar fight early during bike week, Yoshimura Suzuki's Aaron Yates rode to sixth in the race with his jaw plated and wired shut. "I was walking through the place, looking for a friend, when all of a sudden somebody just hit me in the side of the jaw. I didn't even know what happened until it was over."
Scott Russell earned another Daytona 200 pole position – and another Rolex – with his lap of 1:48.840. Not knowing where the timing beacon was located ended up costing Vance & Hines Ducati's Anthony Gobert pole position, who had a lock on the quickest lap but slowed before getting to the turn-one timing beacon.
Quote of the Week: Miguel Duhamel showed up at Daytona with bleached white hair, though his trip down Vanity Lane didn't come without consequence. "I'm not going to do it again," Duhamel said. "I'm going to have to go the Mayo Clinic to get my scalp fixed. It got a bit burned. I have a whole new respect for all those people out there bleaching their heads."
Fifth place in the Supersport race at Daytona, which was won by Muzzy Kawasaki's Doug Chandler, went to a 16-year-old Nicky Hayden. Hayden had earlier in the week finished second to his teammate Jason Pridmore in the 750cc Supersport final, prompting me to write in the coverage of the race… "Like a pesky little brother sharing the back seat of the family station wagon, Nicky Hayden kept tormenting his HyperCycle Suzuki teammate during the race. It was just a jab here, a pinch there, but finally Pridmore said enough's enough…"
1999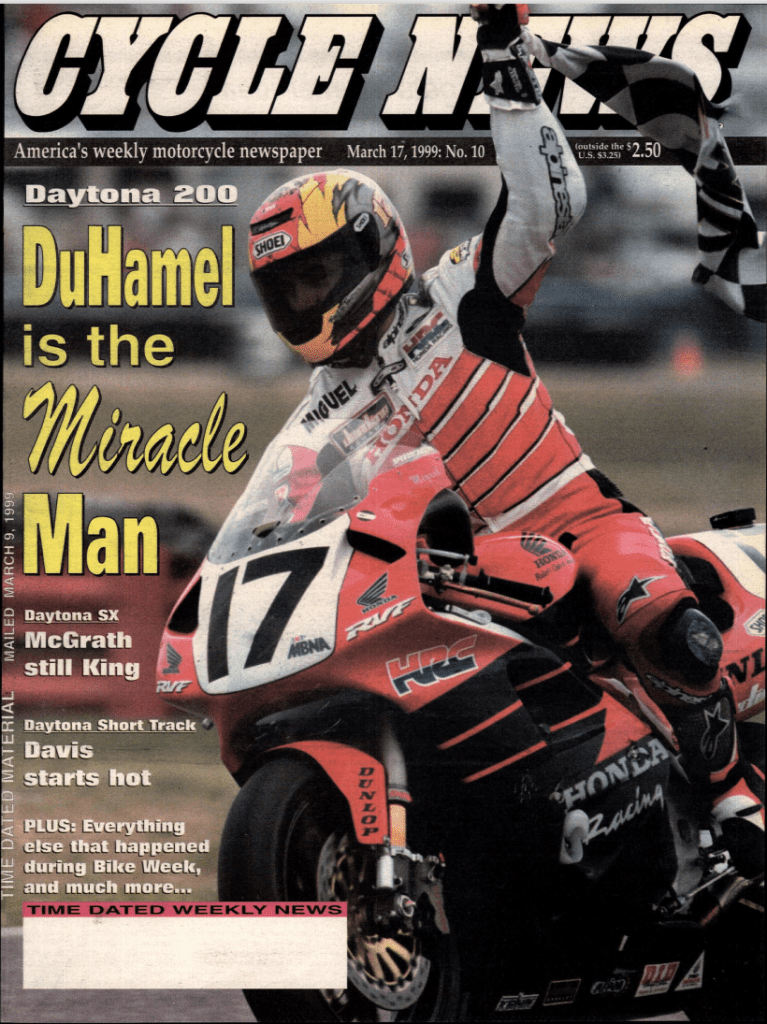 Winner: Miguel Duhamel, Honda RC45
After an hour and 47 minutes of never being apart by more than just a few seconds, American Honda's Miguel Duhamel and Yoshimura Suzuki's Mat Mladin battled to the bitter end of the 1999 Daytona 200 with Duhamel beating Mladin to the line by just .014 of a second in what was the fastest Daytona 200 in history.
The Turning Point: With Duhamel and Mladin in a class of their own, it was going to be one of those two who would take victory. Rarely do Daytona 200s feature intense racing from start to finish, but this one did. Duhamel and the RC45 had the upper hand on the banking, Mladin and the GSX-R750 were quicker through the infield. At Daytona, it's usually the banking and the run to the finish line where 200s are won and that's where Duhamel got the job done. "It was a hard race and I give a lot of credit to Mat," Duhamel said. "He stayed there with me, and I think my bike was better – actually, I know my bike was faster. It was a great race, and we were just going at it."
Newsworthy: The win was Duhamel's third in the Daytona 200 with the French Canadian having won the race in 1991 and 1996. It was also his 22nd career AMA Superbike victory and he averaged a record 113.469 mph for the 200-mile race.
This is also the race that solidified Duhamel as one tough hombre as he used a cane to walk around the Speedway all week and was actually lifted on and off the bike by his crew. Duhamel had suffered a compound fracture to his femur and basically destroyed his knee in June of 1998 in a crash at New Hampshire International Speedway.
The battle for third was as good as the battle for victory with Yamaha's Rich Oliver and Vance & Hines Ducati's Ben Bostrom going at it for 200 miles. It came down to a drafting battle and Oliver beat Bostrom to the line by just .002 of a second.
Scott "Mr. Daytona" Russell was assaulted in Razzles, a Daytona Beach nightclub, in the wee hours of Friday morning during race week. The five-time winner of the Daytona 200 suffered two facial fractures in the altercation, spent the night in the hospital and returned to his Georgia home on Friday afternoon to see his personal physician. "I can't believe I'm not out there for the Daytona 200," Russell said in a Harley-Davidson press release. "I'm sorry that this happened. I did not provoke it in any way. I'd like to thank all my fans and say I'm sorry you won't be able to see me try and win my sixth Daytona 200 today."
Vance & Hines Ducati's Anthony Gobert earned pole position for the Daytona 200, lapping at a record-setting 1:48.512 (118.102) mph. It was Ducati's fifth pole position for the 200 and the first since Troy Corser earned pole in 1996. Gobert earned the Rolex watch for taking pole – an early birthday present since he celebrated his 24th birthday the following day. Gobert had tire woes in the 200, pitting four times and eventually finishing 11th.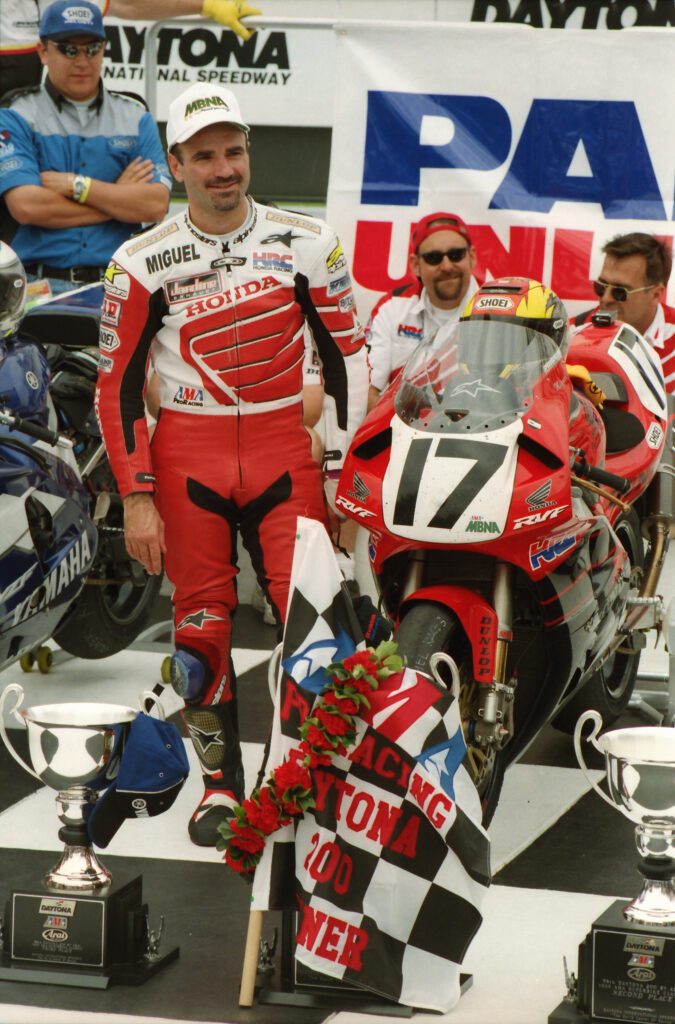 Duhamel's Honda teammate Eric Bostrom crashed his Honda RC45 during qualifying on Thursday and suffered a broken ankle. Somewhat remarkable was the fact that it was Bostrom's first-ever crash on a Superbike.
The 600cc Supersport race was won by… none other than Miguel Duhamel. Duhamel raced Honda's brand-new Honda CBR600 F-4, prompting Cycle News to write… "With the Daytona round of the 600cc Supersport Series being the most important race of the year marketing-wise, Honda should just go ahead and make Duhamel its national sales manager."
Twenty-three-year-old Joshua Kurt Hayes won his first-career AMA Supersport race when he ran away and hid in 750cc Supersport, answering the question "Who is Josh Hayes?" with a resounding performance on his Michelin-shod Valvoline EMGO Suzuki. To make his effort even more impressive was the fact that Hayes was racing as replacement rider for the injured Ryan Landers. "It's really great to come out here and ride with the caliber of riders like these," Hayes said. "I've always been reading about them, but I've never had the chance to go out there and race with them. It was really a lot of fun. These guys ride awesome, and they'll make you ride hard the whole race. I am sure glad I wasn't back there with the beatin' and the bangin.' " Hayes also finished sixth in the 600cc Supersport class.