The following is the 18th of our "21 In '21" series that highlights one of the 21 AMA Superbike Champions as we move through the 2021 MotoAmerica season – the 45th year of the premier class championship.
There must be multiple manufacturers and team owners who kick themselves daily for failing to offer Josh Hayes a Superbike ride earlier in his career. They all had ample opportunities as Hayes was right there in front of their eyes, racing in AMA support classes for 10 years before finally getting the opportunity. That big break came from Yamaha and Keith McCarty.
What followed were 61 AMA Superbike wins and four AMA Superbike Championships – all on Yamaha YZF-R1s. Hayes simply dominated the sport as a racer and he's remained a steadfast part of the MotoAmerica Series as he currently shares his wisdom, race craft, bike set-up knowledge and anything else young up-and-coming racers (or established stars) may need help with from a rider coach and paddock stalwart.
One of the things that makes Hayes who he is the fact that none of this came easy. He wasn't your young prodigy road racer with a factory contract from the time he turned professional. Far from it. He started late, bounced around between support classes and non-factory teams and brands before finally getting his shot.
"It was a bit of a long road," Hayes says of his path to AMA Superbike racing. "I did a decade in the support classes. Won three championships, got passed over a few times. It's funny. My career played out in a really weird but funny way. A lot of being in the right place at the right time, a lot of luck. I can't remember in my career if I ever had an option between multiple teams. Like, I can do this or I can do this. Being able to weigh them out on each other. I just got lucky each year and one ride kind of led into the next. If I could do multiple years with a team. Finally, Keith McCarty (the long-time Yamaha race team manager) gave me a call. I think I was in Portugal racing World Supersport, desperate to find something when I got the call from Keith. I don't even think there was a question of money. It was like, 'Hey, I got a Yamaha Superbike ride.' I said, 'I'll take it!' And it was done. Glad that came around."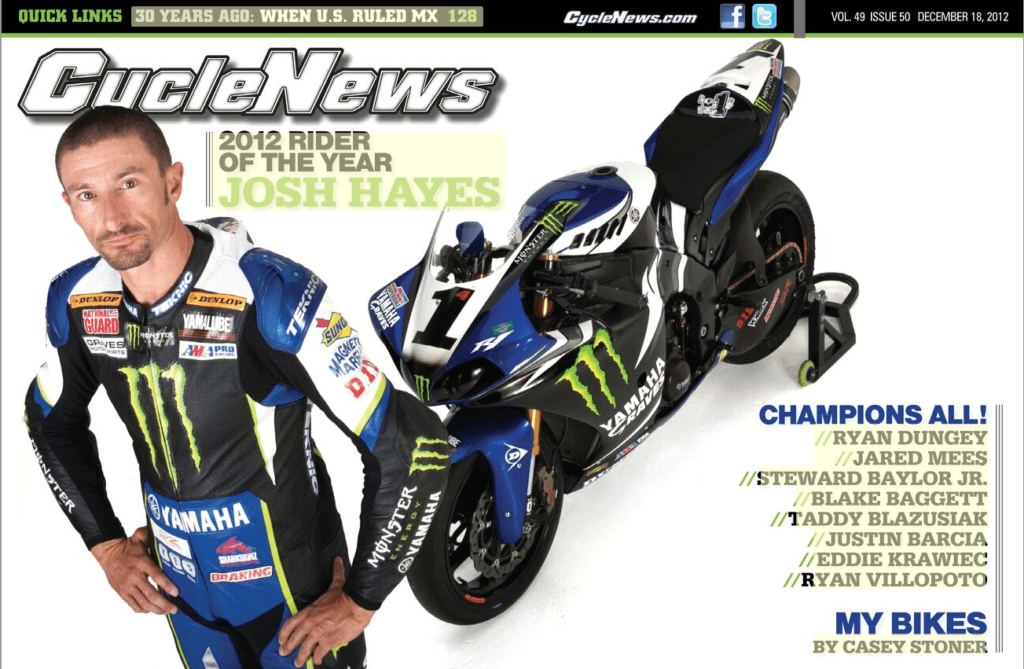 Hayes raced Superbikes that were very similar to the Superbikes of today as his titles came in 2010, 2011, 2012 and 2014 – the modern era of AMA/MotoAmerica Superbike racing. Let's also not forget that Hayes also won three other AMA Championships in support classes: Formula Xtreme (2006, 2007) and Superstock (2003).
"The electronics were there," Hayes said of the Superbikes he rode vs. the current breed of Superbike. "They were sophisticated, absolutely. But the system that they were using was a little bit different. Everything was more reactionary than it currently is. Now they've gone to software that's more of a torque-based system where everything is so integrated. Back then, we could actually just turn TC off and not have any. Now it's not that simple the way the bike works. Everything is a calculation. It looks at the gear, the RPM, lean angle… all of these different things, and says, 'he's asking for this much throttle,' and decides how much you're allowed to have. So, it is quite a bit different than the stuff I originally started with, though it was advanced electronics. The bikes were very powerful. On the chassis side, we were a little bit more on the stock area, but everything was massaged greatly to make that happen."
Hayes raced against the best the series had to offer – the Mat Mladins, the Haydens, the Blake Youngs, and the Cameron Beaubiers of the world – so who was his biggest rival? His best memory?
"I had a couple of pretty awesome things that I remember over my championship seasons," Hayes said. "I had rivalries with quite a few guys. Tommy Hayden was there for a lot of my career. Roger Hayden was there for a little bit even longer in my career. It seemed like I went head-to-head with Tommy more than most. Then Blake Young, of course. I had those years. I would say my first championship was pretty close. It came down to Tommy (Hayden) and I at the last race of the year. I want to say the next year it was Blake (Young). I remember New Jersey being just a crazy race. It was red-flagged with only six or eight laps to go. I had gotten myself back into the championship the day before. Blake kind of had a lead coming in. He choked a little on Saturday, and on Sunday I was away with the lead. Everything was good. They red-flagged it, started it over. I had to finish third or better. When I started the last lap, when we got the white flag, I was in P7, if I remember correctly. Just this whole litany of things happened. I ended up getting second, right close to Blake Young. I wrapped up that championship a little early, I think at Homestead, but then the last race of the year was at New Orleans. It was the only time we ever raced in New Orleans. All my family and friends were there from back in Gulfport. Having a really dominant weekend in front of all them was pretty awesome. All of 2012 was pretty special."
Speaking of 2012, that was a year of superlatives for the "Mississippi Madman." He obliterated the Superbike field – and the record books – on the way to winning his third consecutive AMA Superbike Championship. He set a new record for most Superbike wins in a single season with 16, and he also set a new record for most consecutive Superbike wins in a single season with 10 (a record that was tied by Cameron Beaubier in 2020 and has since been broken by Jake Gagne with 13 consecutive wins and counting). In addition, Hayes tied the record for most Superbike poles in a single season with 10, and he had seven perfect weekends. In seven rounds during the 2012 season, Hayes qualified his Monster Energy/Graves/Yamaha R1 Superbike on pole position, won both Superbike races, and also led the most laps in both races.
The Hayes of today spends his time traveling the country with his family as they bounce from MotoAmerica race to MotoAmerica race. When they get to the track, both Josh and Melissa Hayes have jobs inside the paddock. Motorcycle racing is still, and will likely always be, a massive part of their lives.
"You know, I'm still at the track," Hayes said. "I'm coaching and my wife is a crew chief and still working at the track. Other than that, this year has been pretty special. We got a little help from Heartland RV. We left home in May with a two-week-old baby girl, Hawk (his son), and Huckleberry (the family dog) in the passenger seat with Melissa between two car seats in the backseat of our pickup, driving around a trailer, seeing the country and following the MotoAmerica schedule. So, it's been quite the adventure. I feel lucky and privileged that I get to still do this."